We are a community of apostles united in an evangelizing mission to bring Christ and his love to others
DISCOVER WHAT REGNUM CHRISTI HAS TO OFFER IN SEOUL, SOUTH KOREA
the Sacraments: mass and confession
Spiritual direction and formation for Regnum Christi members
School of Prayer
Bible Class
Guide for Spiritual Life: Introduction to the Devout Life
Catechism for beginners: personal accompaniment
Follow us on social media
If you want to know more please go to our website or for a specific inquiry feel free to send us an email.
September 29 @ 5:30 pm
-
October 1 @ 5:30 pm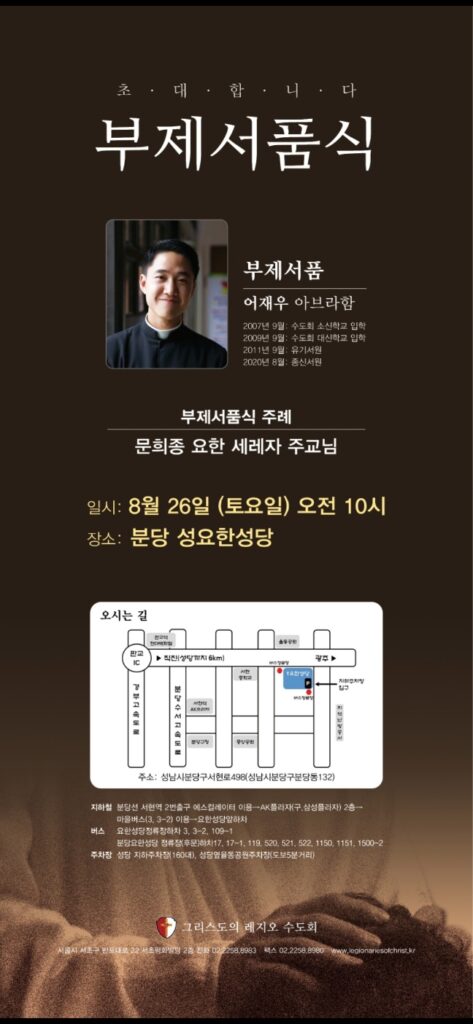 The Diaconate Ordination
of Br. Abraham Eo
August 26, 2023
St. John's Catholic Church, Bundang, Rep. of Korea
10:00AM, presided by Fr. John Moon Hee Jong, Auxiliary bishop of Suwon Diocese.
RC Spirituality Center Korea
Seocho Pyeonghwa Bldg., 2nd Floor.  22 Banpo-daero, Seocho-gu, Seoul 06716, Republic of Korea.
Tel: +82 2 2258 8983; 010 9959 8983
At our Center we offer the sacraments, RC activities, a  Course on the Spiritual life, Bible Classes (English and Korean), and spiritual direction.
Do you want to be an apostle?
Do you want to be an apostle?