It all started in Holy Week of 2021. Sarah Carpenter had been attending a Catholic high school in Philadelphia, where many of her peers had been taking part in the annual Holy Week missions led by Mission Youth Philly for years, but it wasn't until her senior year that she herself was able to participate. And those seven days ended up completely changing the trajectory of Sarah's life.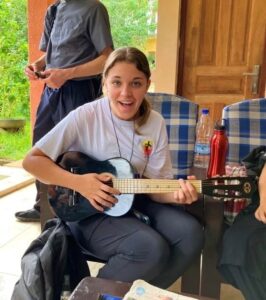 It was the spring of Sarah's senior year, and she was getting ready to begin college life. Up until that week, Sarah was set on attending the University of Florida – the deposit had already been put down on her tuition. But over the seven days of Holy Week, everything changed. "It was like a wall had been broken down," says Sarah, "and my heart was on fire in a way I still can't fully explain." The powerful encounters that she experienced during the mission led Sarah to make a decision that she had never imagined herself making. After much time spent in prayer, and a conversation with Fr. Michael Moriarty, LC, Sarah knew with full confidence what God was calling her to do: she would stay in Philadelphia and continue to do the mission work in the Kensington neighbourhood where Mission Youth Philly spends most of its time. Sarah became a Mission Youth Philly Apostle, committing one year of her life to service and evangelization, living in community, receiving focused spiritual formation, and bringing Christ to the streets of Kensington.
Shortly after her mission year began, Sarah felt a deep call to the charism of Regnum Christ, and became a member in October of 2021. In May of 2022, she became a Collaborator with RC Music Collective, a group of Legionaries of Christ, Consecrated Women, and lay Regnum Christi members who create original music to lead others to a transformative encounter with Christ.
Music has always been a part of Sarah's life, but she had never taken it seriously until her sophomore year of high school. After a terrible failed audition to be one of the school's jazz singers in her freshman year, Sarah decided to take voice lessons to improve her talents. From that point on, singing became one of the most important parts of her life; by her sophomore year, she was doing musical theatre, singing in six different choirs, and finally became one of the school's jazz singers that she'd so longed to be.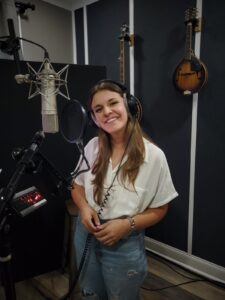 However, in Sarah's senior year, after she began experiencing an unexplained weakness in her vocal cords, she was diagnosed with Lyme disease, which, in combination with vocal damage caused by singing jazz, prevented her from being able to sing at all. "It was heartbreaking, and I got to a point where I really did hate singing," says Sarah. "I literally had to start over, I had to learn how to sing all over again." But after graduating and being her mission year with Mission Youth Philly, Sarah's relationship with music changed yet again. "It was no longer just a relationship between me and music – it became a sacred place between me and the Lord. After years of performing in the hopes of receiving praise and gratification from others, it transformed into a humble prayer of love to my heavenly Father."
Unfortunately for Sarah, her mission year with Mission Youth Philly came to an early end; for health reasons, she had to leave the mission at the end January, which left her feeling lost and alone. Longing to continue singing and writing music, she heard about RC Music Collective, and, prompted by the Holy Spirit, decided to reach out to the group. Sarah attended a musicians' retreat in March which, for her, was a beautiful experience of consolation and  healing of the difficulties she had encountered over the past year, particularly with her relationship with music.
Shortly after, Sarah received a text from Fr. John Klein, LC, inviting her to come record with the Collective in Nashville in June. "I was in total shock, and I had to read the text over and over again because I genuinely couldn't believe what was happening! It was in every way an answered prayer – the dream I had had since I was 14 years old was coming true!"
Sarah joined Fr. John and the members of RC Music Collective, including two other new Collaborators and Regnum Christi members, Rae Hering and Willie Galvez, in Nashville for a week-long recording session, where they recorded seven new songs. "The entire week felt like one big prayer of thanksgiving and praise to the Lord," says Sarah: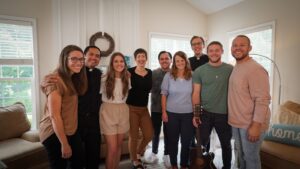 "From the moment I arrived, I felt so loved and welcomed, and getting to live out that charism of music through the Regnum Christi charism is an experience I don't think I can fully express in words. This past year was one of the most difficult things I've ever done, but through it, I've grown so much as a musician and have become head over heels in love with the Lord – I'm so excited to continue on this crazy journey with him!"
You can check out the Nashville recording sessions on YouTube, or connect with them on Spotify. To find out more about Mission Youth Philly, visit their website at  missionyouthphilly.com.