Ver Peña, a trustee of the board of Everest Academy Manila and a Regnum Christi member shares how the vision of beginning RC Education schools in the Philippines began to take shape. "'Aiming Higher,' That's the slogan we saw when we first visited Legionary or Semper Altiusschools in other countries. My wife and I said,  'we need something like this in the Philippines.' That's when the dream started."
Everest Academy Manila came to life in 2007, the first RC Education school in Asia, and the first Catholic international school in the Philippines. It now has 560 students and is one of over 200 Regnum Christi schools in 16 countries around the world.  In 2008, a sister school was born. Mano Amiga Academy, 45 minutes outside of Manila, uses the same RC Education curriculum and pedagogy while providing top quality education to underpriviledged families and breaking cycles of poverty.
Now, a third RC Education school is getting ready to open its doors. An affiliated Everest Academy campus, Everest Academy Laguna,  is coming to life on a 20 hectare mixed-use institutional development in Nuvali, an hour south of Manila.  The development includes three buildings to cater to K-12 students, an Administration/Retail Building, and Mary, Queen of Apostles Church.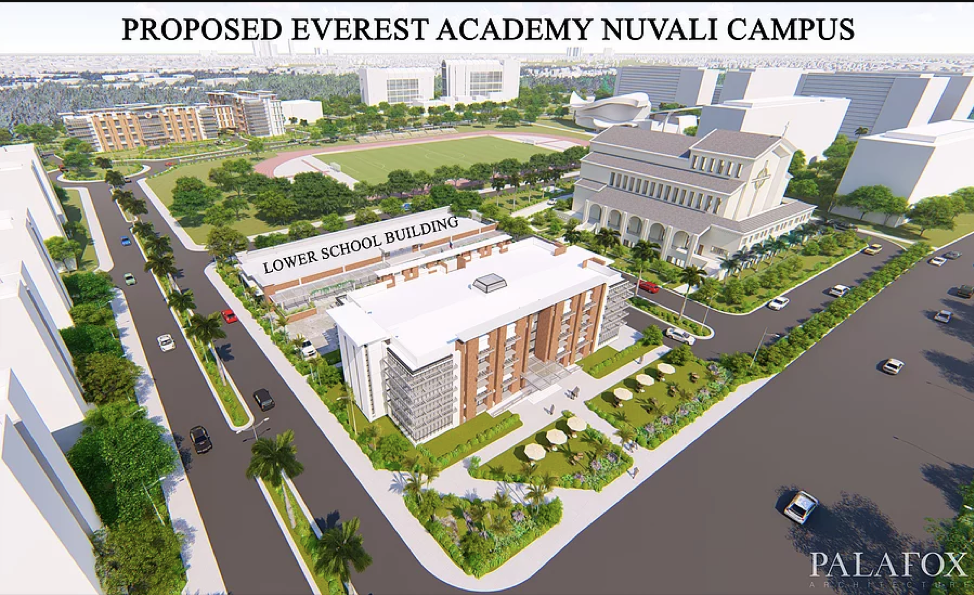 The first building to rise on the site is the Lower School, which will house the Preschool, Kindergarten and Grades 1 to 4. This building will be completed by July 2019, just in time to open its doors to its pioneering students on August 2019 for school year 2019-2020.
Everest Academy Laguna currently exists as a preschool which offers a coherent progression of skills, concepts, and knowledge in all areas of child development.
The Everest Academy Laguna Preschool Curriculum was developed by researching and reviewing exemplary early childhood education practices by the International Center for Integral Formation (ICIF).  It provides a solid, coherent foundation of knowledge, concepts, and skills which are aligned with the Regnum Christi Education K-12 curriculum standards. The curriculum addresses the physical, intellectual, social, emotional, and moral development of children and the new Everest Academy Laguna lower school will continue to integrate the curriculum and pedagogy in place.
Students of Everest Academy Laguna receive more than a world-class academic education. They are provided the tools necessary to grow in the attitudes and virtues that characterize intellectually and socially mature persons, such as perseverance and completion of tasks, clear and controlled expression of thoughts and emotions, self-reflection, self-mastery, friendliness, and appropriate manners.