Currently serving as the Section Director for the Northshore locality in Louisiana, Tara White has been a Regnum Christi member for eighteen years, and she brings her robust faith and energetic zeal to everything she does, including her work as a Christ-centered fitness instructor and health and lifestyle coach.
But the real story of Tara's journey towards becoming a Certified Health and Lifestyle Coach and Pietra Fitness instructor began twenty years ago, in a fertility clinic. It was here that Tara learned that without significant medical intervention, she would not be able to conceive a child, and IVF was her only chance of becoming pregnant. At the time, Tara was far from her Catholic faith, and the news of her infertility only pushed her further away from the Church. "I was so angry with God because I wasn't getting what I wanted," says Tara.
In her efforts to get pregnant, Tara turned to a nutritionist who encouraged her to face her infertility with a more integrated approach. "She said 'You need to learn to calm yourself'," says Tara, who, as a result, began practicing yoga and drastically changed her eating habits, which, at the time, was overwhelming. "I'll never forget walking into Whole Foods, and walking right out, because it was so hard to understand."
It was that feeling of being overwhelmed – and hopeless – in her journey towards health and fertility, that led Tara to the foot of the tabernacle one day. "Where it all changed for me was when I went to adoration," says Tara. "I just laid everything before God and said, 'I surrender myself to you, because I can't do it.'" It was then that Tara decided to learn more about Natural Family Planning to understand her fertility better, and never returned to the fertility institute.
Within three months, Tara was pregnant.
But Tara's journey towards physical and spiritual health had only just begun. She was introduced to Regnum Christi, joined Familia, an RC apostolate designed to support and strengthen the family, and began receiving regular spiritual direction. "God had a plan, when I thought my life was just hopeless," says Tara. "Then my whole life changed for the better."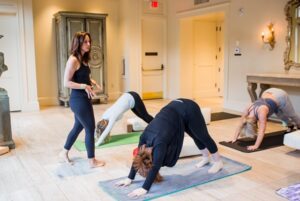 At that time, Tara was planning to train to become a yoga instructor, until her spiritual director gently urged her to discern this decision in light of the teachings of the Church. Although Tara, who considers herself "kind of bull-headed" was determined to go ahead with her plans to teach yoga, she accepted the challenge of her spiritual director and agreed to look into it, reading encyclicals and taking the issue to prayer. Once again, it was before the tabernacle that she found her answer. "It really came to a head when I went to adoration, and placed it before the Blessed Sacrament," says Tara. "And I just knew I couldn't do it."
It was at this time that Tara learned about a new program being developed called Pietra Fitness, which promised strengthening, stretching, and meditation, all within the Catholic tradition. She got in touch with the program's founder, Karen Barbieri, and then took the entire matter to patient prayer, in the form of a fifty-four-day novena. This prolonged discernment process, Tara admits, wasn't easy. "I'm not a very patient person," says Tara. "I tended to always go with what I wanted to do, so God really taught me a lot of patience through this." At the end of the novena, Tara had her answer: Karen Barbieri called her up and asked her to be a part of the pilot program for Pietra Fitness. "This was my answer to prayer."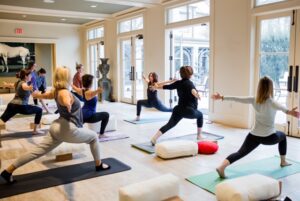 Being a part of the pilot training had its challenges – particularly because, as one of the first trainers across the country, Tara was training in a brand-new program all on her own – but she now is a certified Pietra Fitness trainer, and earlier this year opened her own studio where she lives in Covington, Louisiana. At present, in light of social-distancing requirements, she conducts her classes over Zoom, leading others in workouts designed for the body, mind and soul; her Pietra Fitness sessions combine exercises to increase strength, stability and flexibility with Christian meditation meant to engage the mind and calm the soul. "It has all the beauties and benefits of exercising and flexibility, but also has that meditation and breathwork that are so important to being whole," says Tara. "It's for people looking for something that can truly give them that body, mind, and soul experience that is centered on Christ."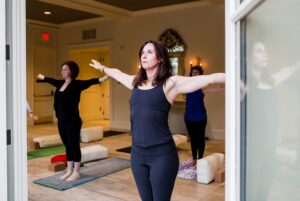 Each of Tara's workouts is centered on a new theme – like adoration of Christ, surrender of the heart, or the virtue of humility – and she leads her clients through movements and meditations that she hopes, ultimately, will draw her participants closer to Christ. "I try to teach truth about what meditation is," says Tara. "We're here to develop a relationship with Christ, and that's what this helps to start, to promote."
Participants in Tara's online Pietra Fitness classes come from all over the country, and even from a variety of faiths; Tara has a generous and inclusive zeal for souls. And for Tara, and people who attend her classes are more than just clients – she sees each one as a soul that she's called to accompany on his or her faith journey. One particular woman that Tara has been accompanying through her Pietra Fitness classes has begun asking questions about the Catholic faith, and has started attending book studies hosted by Tara's Regnum Christi section. "That situation has really blown me away, me witnessing how she's been so open, and I really feel the Holy Spirit is leading her and deepening her relationship and faith in God," says Tara. "And that's what I'm here to do, to capture souls and to bring them to him."
And Tara's journey doesn't end at Pietra Fitness; she also became a Certified Health and Lifestyle Coach. In this role, Tara continues her mission to accompany others on a faith journey that integrates all aspects of the human person – body, mind, and soul. She provides health assessments, one-on-one coaching, resources, and nutritional plans, all with the objective of helping her clients reach their goals – whatever they may be – by taking responsibility for their own health story. And for Tara, being a Health and Lifestyle Coach is not so much an occupation, but her ministry, her deepest passion, and the fulfillment of her Christian vocation. "Coaching accompanies people," says Tara. "That's what we're here to do, to help people become awakened to who they are, and find true freedom in being who God created them to be."
Tara's involvement with Pietra Fitness, which presents a Christ-centered alternative to what the world has to offer, and her work as a health and lifestyle coach, has led her to her newest adventure: she's a part of a Pietra Fitness team working on creating integrated retreat experiences for women that foster health and wellness not just for the body, but also for the mind and soul. The team's goal is to provide a whole-body wellness retreat that's more than skin-deep, and that instead integrates physical, mental and spiritual well-being in a cohesive way – promoting wellness, inside and out. "If we're just working on the outside of who we are, we're disconnecting the soul from everything it is we're doing," says Tara. "It's not just what you eat. It's good to exercise and be healthy, but are we using it so we can serve God better?"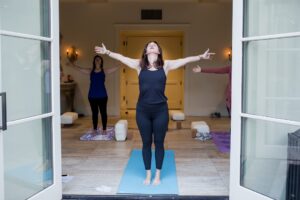 "I never thought in a million years that I'd be here, I never thought in my wildest dreams that my story would unfold the way it has," says Tara. Looking back on the twenty-year journey that brought her to where she is today, her attitude is, above all, one of gratefulness, not just for the blessings she now experiences, but also for the sufferings and uncertainty that ultimately drew her closer to Christ and started her on a journey of physical and spiritual health. "God leads you in your life, a little bit at a time, and prepares you and changes you, if you allow it. If we can just be open and vulnerable, our sufferings and humiliations can be our greatest treasure."
To find out more about Tara's health and lifestyle coaching, or simply to receive uplifting messages focussed on body, mind, and soul, follow her at Tara White on Facebook or at tarabehealthy on Instagram. To learn more about Pietra Fitness, visit pietrafitness.com, visit Tara's Pietra Fitness website, or e-mail her at [email protected].