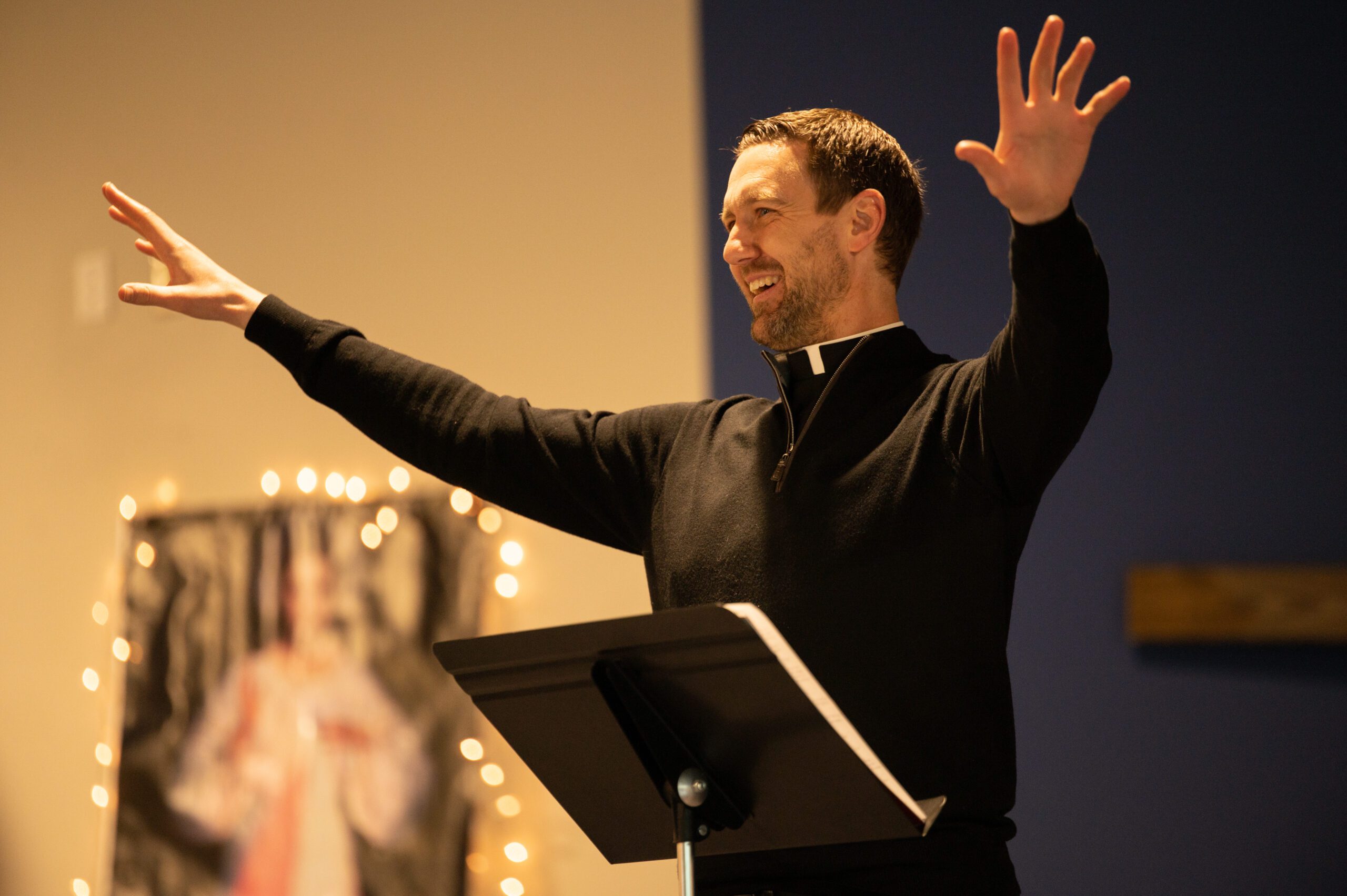 Fr. Jason Brooks LC, has begun a new healing ministry in the Regnum Christi locality of Detroit; but for Fr. Jason, his journey into healing ministry started long ago.
Back in 2015, Fr. Jason attended a healing retreat for clergy held at the John Paul II Healing Center in Tallahassee, Florida, where the center's founder, Dr. Bob Schuchts, spoke on the healing of the whole person through encounter with the powerful love of Christ. For Fr. Jason, this message of inner healing was a personal one. After the scandal of the founder of the Legionaries of Christ, he had experienced his own profound need for inner healing and a renewal of his heart and mind. Providentially, upon arriving to Detroit in 2017 to be the chaplain of the adult sections of Regnum Christi, Fr. Jason met the new  women's section director, Diane Burns, who was also interested in healing and charismatic prayer. Diane introduced Fr. Jason to the documentary film Fearless, which inspired him to learn more about power evangelization and healing ministry.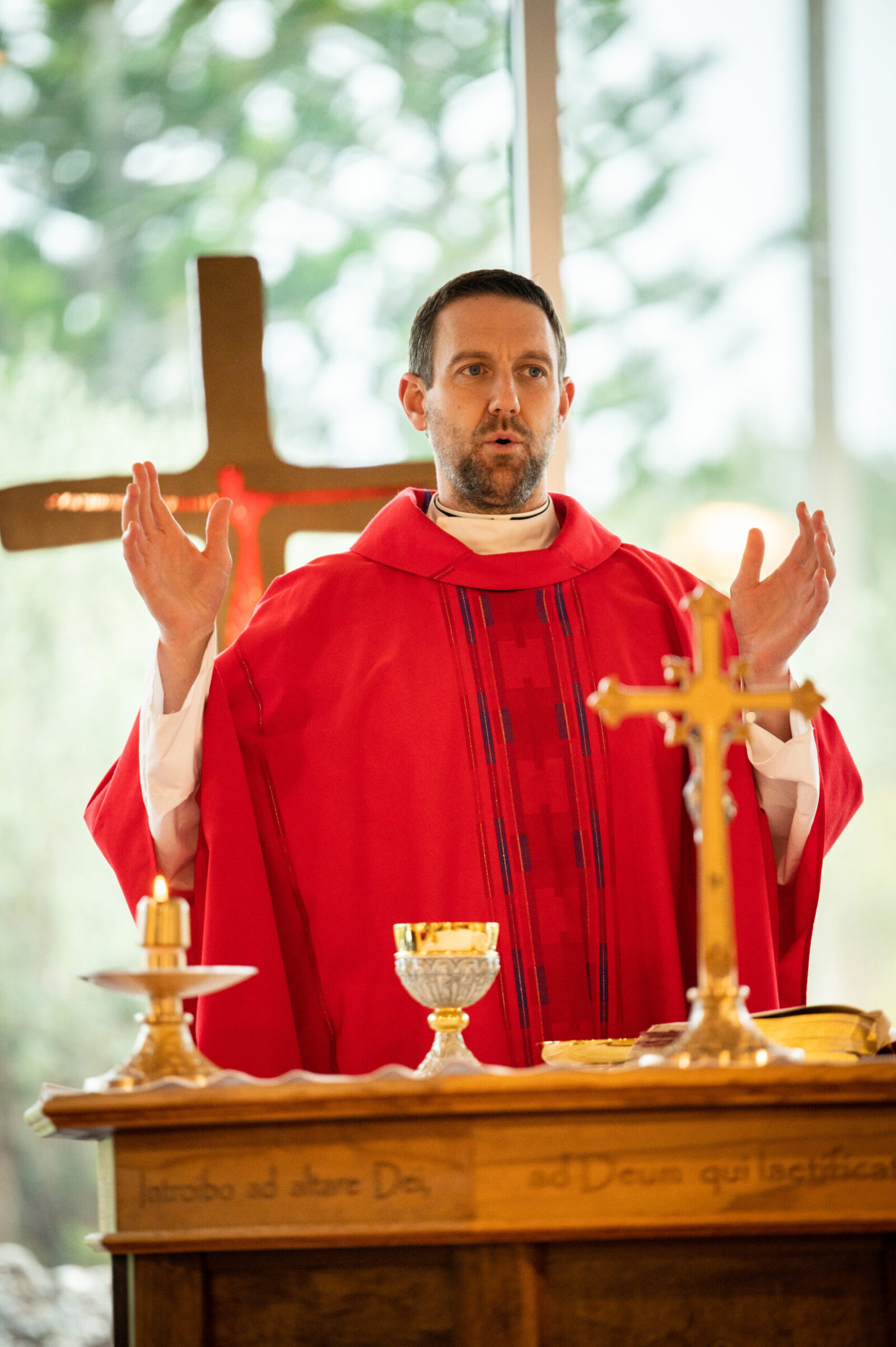 In 2018, Fr. Jason, along with several RC members from the Detroit locality, attended the first annual Encounter Conference in Ann Arbor, Michigan. As he continued to attend  the conferences in 2019 and early 2020, the idea of starting a healing ministry began to take root, and in 2021, Fr. Jason received permission from his Legionary superiors and the local RC leadership in Detroit to begin the ministry. In order to become trained and better prepared to carry out a healing ministry, Fr. Jason and several women from the RC section enrolled in the Encounter School of Ministry, a two-year training program designed to teach, equip, and activate disciples to demonstrate the love of God through the power of the Holy Spirit. Attending courses in-person at the school's campus in Brighton, Michigan, Fr. Jason studied topics such as Identity and Transformation, Hearing God's Voice, and Power and Healing.
As a priest, Fr. Jason was already well acquainted with inner healing models and practices and had performed many anointings for people who were sick or headed into surgery, but before attending the Encounter School of Ministry, he had never intentionally prayed for physical healing, nor did he have much expectation or faith in on-the-spot healings.
 However, as he started to pray in this new way, he eventually started to witness more and more miracles. The turning point in his healing ministry journey occurred in his second year of training. In June before that year had begun, he was to accompany another priest from Encounter Ministries, who was far more experienced in healings, to Louisiana for a 24-Hour School of Healing. As it turned out, the priest he was to assist was suddenly unavailable for the second evening of the event, and Fr. Jason ended up having to lead the healing service himself. That night, he personally witnessed several healings: for instance, a woman who had severe back pain and could barely sit experienced, for the first time in a long time, full relief from pain. "That definitely encouraged me to keep going, and I went into year two with a lot more expectation."
At the annual Encounter Conference in 2023, these expectations of healing were met. During a healing event with Damien Stayne, founder of the Cor et Lumen Christi Community, Fr. Jason felt a real desire to receive and share the Holy Spirit with others through the gift of healing. "I just said to myself in prayer, 'Lord, I want to see more of this in my life.'" Since then, Fr. Jason has completed his two-year training program with Encounter Ministries. Currently, his healing ministry team consists of himself and eight Regnum Christi members, six of whom have already graduated from the Encounter School of Ministry and one who will graduate next year. They are beginning renovations on what is soon to be the ministry's headquarters – a small historical house on the grounds of Everest Academy, a Regnum Christi school in Clarkston, Michigan.
But until the headquarters are complete, Fr. Jason takes his healing ministry wherever he goes. He visits Everest Academy every Wednesday night for a weekly Holy Hour, followed by healing prayer for those who would like to stay. Just recently, a man who had a broken shoulder attended, and when he had his x-ray a few days later, his doctor stated that there was perfect alignment of the bones and that there would be no surgery needed.
One of the most dramatic healings Fr. Jason has witnessed happened earlier this year while he prayed for his mom's friend, Donna, over the phone: "Donna is a sarcoma cancer survivor, but she was still in a lot of pain. In fact, she said that on a scale of 1 to 10, her pain level was at a 9. By the time I was done praying for Donna, her pain was completely gone. She could hardly believe it! Moreover, when she went for her cancer checkup a couple months later, there was not a trace of cancer in her body!"
And Fr. Jason heard about an even more amazing creative miracle, that has since been corroborated by doctors, that recently occurred during an Encounter Ministry healing service at Anahuac University, a Regnum Christi university in Mexico City: a 10-year-old girl, who was born without a thyroid, miraculously grew a thyroid gland and now has a fully functional thyroid system.
Fr. Jason has also recently shared his training and experience in the healing ministry with the Legionary seminarians in Cheshire, Connecticut. In January of 2023, Regnum Christi published a new essay titled Considerations on Charisms, Healing Ministry, and Life in the Spirit, which provides context and guidance to help members understand the gifts of the Spirit and integrate them into their own spiritual life – Fr. Jason was able to visit the seminary while he was travelling through the area, and shared some of his personal experiences with healing in light of the document. "We prayed a corporate prayer over the brothers that they would have a fresh outpouring of the Holy Spirit, and then asked if anyone would like to stay and receive individual prayer. They all stayed, so we prayed individually over the brothers for over two hours, praying right through lunch!"
Another opportunity Fr. Jason recently had to share this new ministry was during Holy Week in April. Holy Week has traditionally been a time when Regnum Christi members all over the world participate in a variety of missions – including Cross Walks, live Stations of the Cross, adoration evenings, and door-to-door evangelization – to bring the message of Christ's passion and resurrection to their communities. And for Fr. Jason, the healing ministry brings a new charism to missions like these, and makes his encounters even more impactful. Fr. Jason describes one such encounter in which an entire family was moved by the gift of healing: "On Holy Saturday, I accompanied a young couple to visit a family that had asked them to bring back a priest to speak with their teenage son. After I talked to the son, I asked if anyone was in pain; and the mom raised her hand.  She told me that she suffers from diabetes and, at the end of the day; her feet are always killing her. Therefore, I had her sit down and everyone gathered around her and put a hand on her, including her three-year-old son, and together we prayed for healing from her pain. Even before she stood up, she was crying – she was in no pain! The Vigil Mass was about to begin, so we had to go, but then the whole family showed up at the Vigil Mass in thanksgiving to God for what they had just witnessed, and I don't think that had been in their original Saturday night plans!"
And that was just one of many healings that Fr. Jason witnessed during his missions during Holy Week. One woman who was experiencing from pain and memory loss due to a concussion and injuries she sustained in a car accident experienced complete healing on Holy Thursday, and shared her testimony on Easter Sunday. Another woman, who had suffered from migraines for the past 40 years from the time she was a child, felt sudden relief while she was being prayed over, and has been pain-free ever since.
What Fr. Jason has witnessed is that the impact of these healings during Holy Week, and all of those that he has experienced, always goes far beyond the individual who is healed – it evangelizes and awakens the faith of the families, the missionaries, and Fr. Jason himself. "It was great for the missionaries to see the power of God acting through me and through them when I invited them to join me to pray for healing, and it manifests the Kingdom of God right there!" says Fr. Jason. "It's awesome and it's so beautiful – I love helping people have these encounters with God!"
For more information about Fr. Jason's healing ministry, you can contact him at [email protected]. Fr. Jason also hosts a podcast, which you can find at Fr. Jason Brooks, LC on Apple Podcasts, where he shares homilies and reflections on a regular basis. He currently resides in Detroit and serves as Chaplain of the Regnum Christi locality.
To find out more about Encounter Ministries and their School of Ministry, visit their website at encounterministries.us.