Deacon Kevin was raised on a farm by a loving Catholic family just south of Regina, Saskatchewan, Canada, and although he received his sacraments and attended a Catholic school, at the age of 15, he began seriously questioning his faith, the meaning and purpose of his life, and even whether or not he would remain a Christian. At this time, a close friend invited him to his first Conquest Boys' Club retreat, and it was here, in the image of the crucifix, the witness of Christ's Passion, and the example of the two Legionary priests running the retreat, that Deacon Kevin had a profound experience of the depth of Christ's personal love for him. He continued to attend Conquest and Regnum Christi meetings and retreats, and began seeking God in prayer and the sacraments, and in the reading of scripture and the catechism. But it was the summer he spent doing missionary work with Catholic Christian Outreach in Saskatoon, Saskatchewan that lit a missionary spark in Deacon Kevin's heart, and gave him the confidence to believe that he could be an instrument in Christ's mission.
After completing his degree in software engineering at the University of Regina, Deacon Kevin chose to fulfill the great call to mission that was growing in his heart and joined Regnum Christi Mission Corps, where he served with Fr. Kenneth Leblanc, LC, in Toronto and New York. And it was in this missionary work that Deacon Kevin found a great peace, reinforcing the strong desire within him to give meaning to the lives of others by sharing the joy of Christ, and to live this mission for the rest of his life. His first visit to the Legionaries of Christ novitiate in Cheshire, Connecticut confirmed this call. "As soon as I got there, I felt at home, I felt welcome," says Deacon Kevin. "Everyone had the same spirit, the same love for God, the same missionary desire that I had, and that I wanted, and that I knew in my fellow members of Regnum Christi. And so I felt very much at peace, and I came out of that experience thinking 'God wants me here.'"
After his visit to Cheshire, Deacon Kevin decided to enter the novitiate in Cornwall, Ontario in 2011. Because of the scandal of the founder recently coming to light, this was a time of great spiritual crisis in the Legionaries of Christ and Regnum Christi, but in the renewal that followed, Deacon Kevin's vocation to the priesthood was sustained and strengthened. "As I was going through formation, the Legionaries of Christ were going through a whole renewal, asking the questions 'what is God is asking of us,' 'who is the Holy Spirit calling us to be', and 'are we something that can help the Church.' Going through this renewal, every step we'd take, every little change we'd make to make things more human and more personal, really confirmed my love for the Legionaries of Christ and my desire to be a Legionary priest."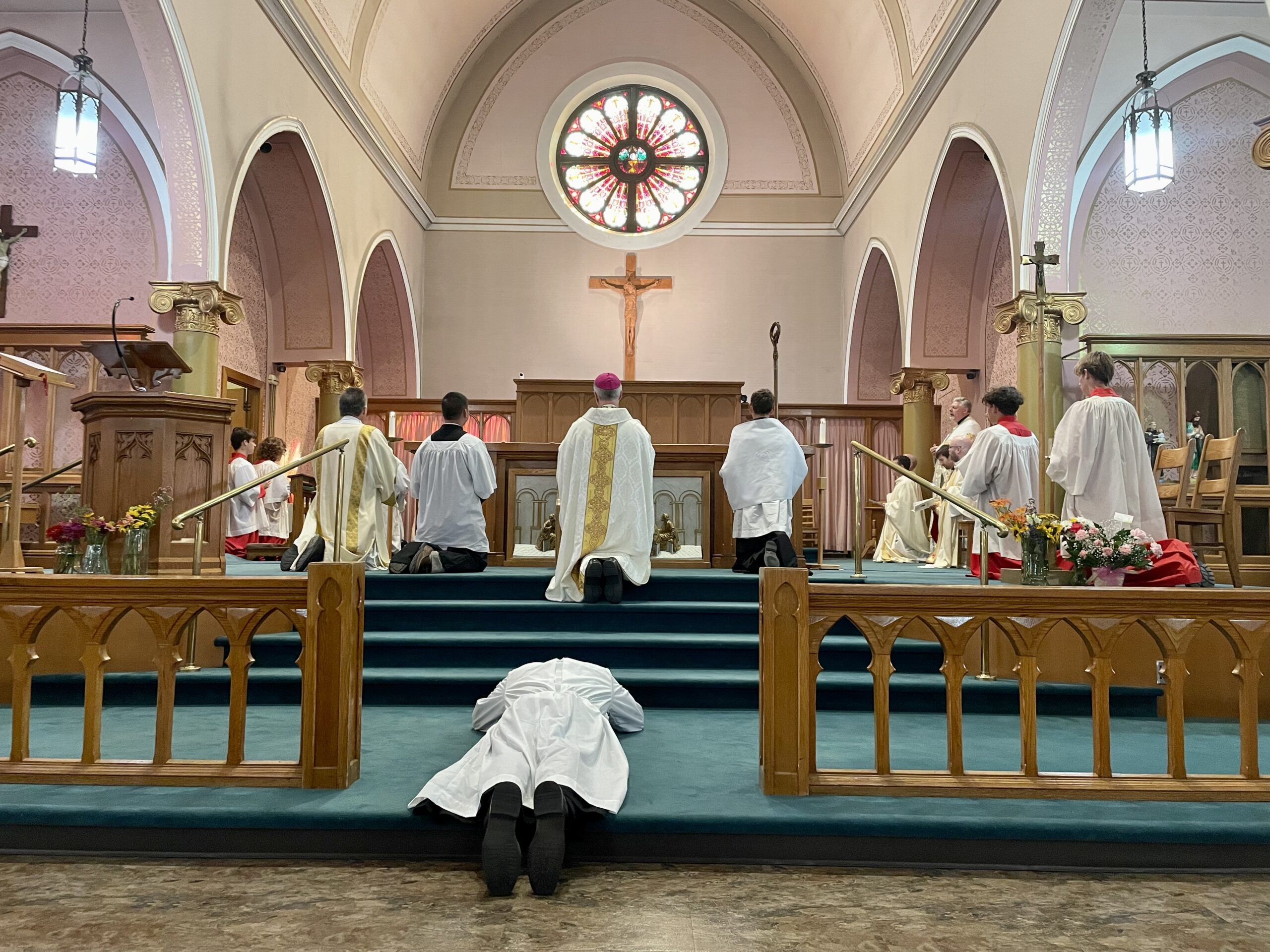 Following his novitiate in Cornwall, Deacon Kevin returned for further study at the Seminary and College of Humanities in Cheshire. He continued his schooling in Rome, studying philosophy and theology, and spent two years doing a missionary internship at a boarding school in France. Throughout these twelve years of formation, Deacon Kevin has experienced firsthand the renewal of the Legionaries of Christ and Regnum Christ, and its desire to remain faithful to Christ and his Church through personal conversion, authentic humility, discernment, and prayer.
Deacon Kevin's Ordination Mass was held on July 29th at Blessed Sacrament Parish in Regina, with Bishop Stephen Hero, of the Diocese of Prince Albert, a town several hours north of Regina, presiding. The diaconate Mass was concelebrated by several priests from the Archdiocese of Regina, as well as Fr. Kenneth Leblanc, LC, Fr. Steven Reilly, LC, and Fr. Fergal O'Duill, LC, who will serve as Deacon Kevin's superior in Dallas, Texas for the next three years. Many past and current boys and young men from the local Conquest Boys' Club, where Deacon Kevin came to encounter the depth of Christ's love for him, served as altar servers for the Mass.
In his homily, Bishop Stephen described the transitional diaconate as an important step in identifying with Christ, who came not to be served, but to serve. "The priesthood is forged here first in the diaconate, and it is the grace of the sacrament that helps form the heart of the man, to make his whole life, priesthood included, an offering of love and humility. The diaconate is, for the man called to the priesthood, time for building a deep foundation for even greater gift and conformity to Christ in the holy priesthood. So enter this time of diaconate with a fresh surrender to God every day. He wants to build a deep foundation of humble service so that it will be clear that it is God who is bearing fruit in you, fruit that will last."
At the end of the Mass, Deacon Kevin thanked all those who had attended to celebrate his ordination. "You have all come here to celebrate with me, but really, this is a celebration of what God has done in my life, transforming my heart and showing me what love really is, and helping me give of myself to others in service and in love." Deacon Kevin also offered particular gratitude for the Regnum Christi members who had gathered for the Mass. "Normally at a wedding, there are two families being united, that of the bride and the groom," said Deacon Kevin. "For many years now, I've already had a second family, and I thank all the members of Regnum Christi here today and those all throughout the world for the love that you have for the Church and for me, and for praying for me all these years. I will spend the rest of my life serving you and serving the community of God as my vocation."
Deacon Kevin will be spending the next three years in Dallas, Texas as the ECYD Boys Chaplain and The Highlands School Chaplain, where he hopes to share with those he will be serving the same experience he had at his first Conquest retreat, of having a real encounter with Christ and discovering his personal and profound love. "God's been with me, and with my brother Legionaries, in our dreams for the future, our plans for the Church, and the hopes that we have in a world where there doesn't seem to be much hope," said Deacon Kevin. "But there is hope, and there is something that we can do as long as we each make a dedicated effort to be the best person we can, to be a saint."
Deacon Kevin is to be ordained a priest in Rome on April 27th, 2024.