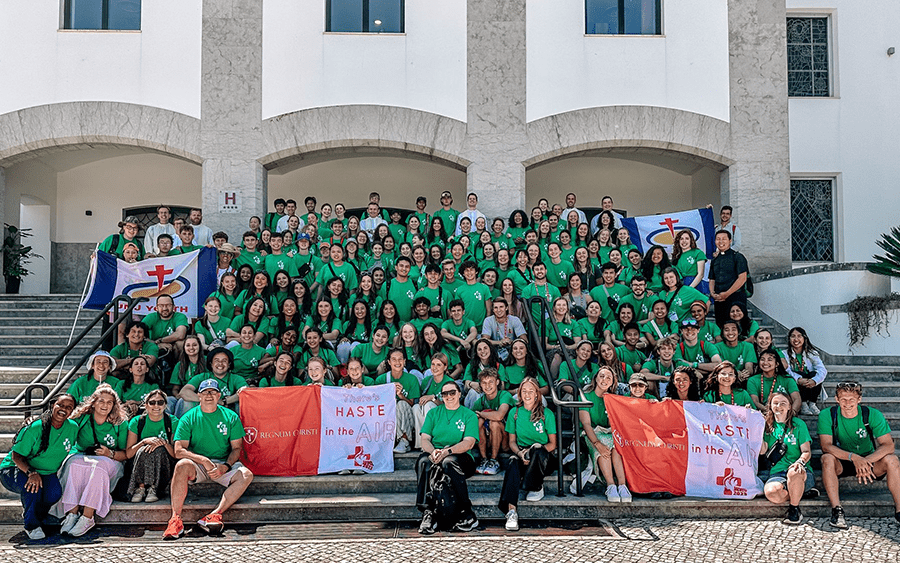 Over 4000 Regnum Christi members were among the estimated 400,000 registered pilgrims who gathered for the 37th World Youth Day that took place August 1 – 6 in Lisbon, Portugal.
Several hundred Regnum Christi pilgrims from the United States attended, some groups beginning their pilgrimages with stops in Spain, Fatima, and local Portuguese dioceses for youth celebrations in preparation for the main events in Lisbon.
The theme of this year's World Youth Day was "Mary arose and went with haste" (Lk 1:39), which Pope Francis explained stresses the urgency of the mission and the need to imitate Mary's prompt response and her deep desire to serve.
Cardinal Manuel Clemente, Cardinal-Patriarch of Lisbon, celebrated the World Youth Day Opening Mass on August 1st, which was immediately followed by adoration at the Basilica of Our Lady of the Martyrs. 
The night concluded with a concert with Fr. Rob Galea, a singer-songwriter from Australia who has written and performed the English and international versions of the official theme songs of several World Youth Days, including 
this year's song
, "Há Pressa no Ar" ("There's a Rush in the Air"). 
The following day, Bishop Robert Barron spoke at the USA National Pilgrim Gathering, where he encouraged the more than 10,000 pilgrims present to find happiness in seeking their mission and to "preach the real Christ."
On Thursday evening, at the Welcome Ceremony held at Edward VII park in Lisbon, Pope Francis addressed the over 500,000 pilgrims gathered there, promising them that the Church is a Church for everyone: "there is room for all."
A stirring The Way of the Cross was held on Friday, August 4th, and on Saturday evening, Pope Francis provided over an evening vigil at Parque Tejo in Lisbon, where an estimated 1.5 million young people camped overnight to secure a spot for Sunday morning's Missioning Mass.
Mariajosé from Atlanta shares her RC experience at World Youth Day in Lisbon!
Opening his homily on the Feast of the Transfiguration, Pope Francis repeated the words of the Apostle Peter – "It is good for us to be here!" (Mt. 17:4), and went on to encourage the weary pilgrims to shine, to listen, and to be unafraid:
"[Jesus] knows each of your hearts, each of your lives; he knows your joys, your sorrows, your successes and failures. He knows your heart. Today, he says to you, here in Lisbon, at this World Youth Day: 'Have no fear, take heart, do not be afraid!'
Pope Francis announced the date and venue for the next World Youth Day, which will be held in 2027 in Soeul, South Korea. For more information about World Youth Day, visit their website.
Click here to view Regnum Christi's Flickr album for WYD 2023. 
ENJOY SNAPSHOTS TAKEN BY SOME OF THE RC PILGRIMS FROM THE UNITED STATES