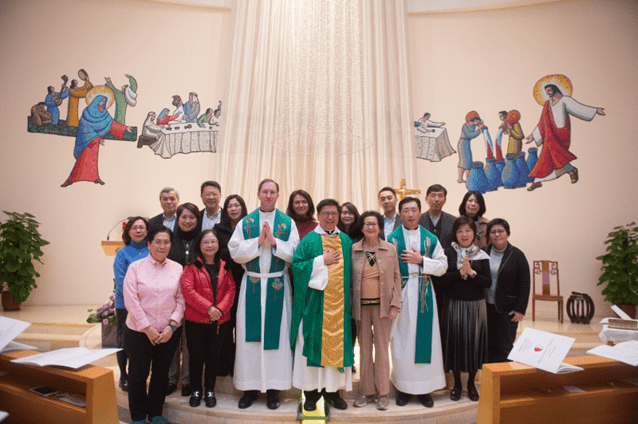 Hong Kong is a unique mission territory for Regnum Christi. With a population of nearly 7.5 million people, the majority of Hong Kong inhabitants adhere to Chinese folk religions, like Confucianism and Taoism, or follow no religion at all. Only 10% of the population identify as Christians, and about half of those are Catholics. Despite its complicated ecclesial situation, Hong Kong presents itself as a bridge to China, whose influence, as one of the strongest global economies, on the future of the world and of the Church cannot be denied.
One of the priests assigned to this mission field is Fr. Joseph Tham, LC, who was born and raised in Hong Kong until the age of 15, when his family moved to Canada. After pursuing a science degree in mathematics, Fr. Joseph went on to graduate from medical school and became a general practitioner. After a visit to the Legionary seminary in Cheshire, Connecticut, in 1994, he decided to end his practice and become a Legionary priest, and was ordained in 2004. His background in medicine led him to the study of bioethics at Regina Apostolorum Pontifical University in Rome, and since 2010, he has been a visiting professor of bioethics at Holy Spirit Seminary College of Theology and Philosophy in Hong Kong. Despite the cultural and religious contrasts that often present challenges in his ministry in Hong Kong, Fr. Joseph sees hope and promise. "There is a warm welcome here for our spirituality and the apostolic methodology of Regnum Christi," says Fr. Joseph. "Providence acts in an unexpected way, opening new possibilities at this moment in our history." Along with his work at retreats, conferences, and pilgrimages, Fr. Joseph has combined his expertise in bioethics with his love for both art and his faith in a book titled Art for God, a collection of his ink paintings, calligraphy, and seals that explore the connection between heaven and humanity. He has recently presented his pieces in art exhibitions in Hong Kong and Kuala Lumpur, and has another exhibition coming up in Macau in September.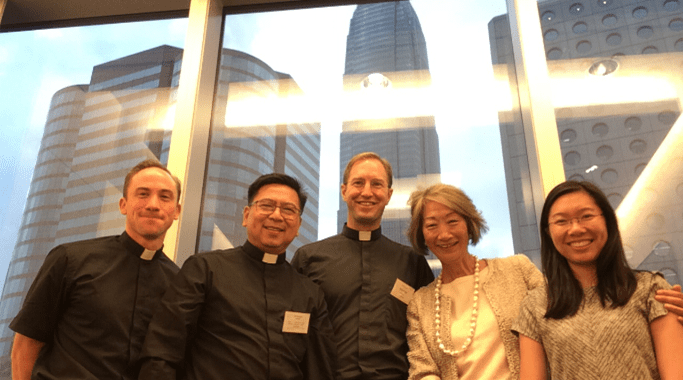 Regnum Christi has had a presence in Hong Kong since November of 2008, when the Legionary priests began visiting Hong Kong and mainland China. Throughout the years, they have given spiritual retreats on scripture and the sacraments, and have offered academic conferences on topics like bioethics and ethics within the field of business. In 2013, Fr. Joseph was joined by fellow Legionary priests, Fr. Gonzalo Miranda, Fr. Alex Yeung, and Fr. Michael Baggot, as well as consecrated member of Regnum Christ, Alberto Garcia, in an interreligious dialogue workshop organized by the UNESCO Chair in Bioethics and Human Right at Hong Kong Baptist University. Legionary priests have also served as chaplains on pilgrimages from Hong Kong to the Holy Land, Poland, Spain, Italy, and Greece, and have accompanied young people to World Youth Days.
The Legionary priests also work closely with the corporate world in Hong Kong. As of July 1997, Hong Kong is a special administrative region in southern China and has its own governing and economic system. Today, Hong Kong is one of Asia's top economic and banking centers, and is ranked fourth among the world's leading financial centers. Because of Hong Kong's significant influence on the economy and international trade, there is a great need and desire for priestly accompaniment of entrepreneurs and professionals who seek theological, apostolic, and spiritual direction.

Recently, Regnum Christi Hong Kong hosted a Sacred Triduum Retreat in Hong Kong from Holy Thursday to Holy Saturday (April 6 – 8). The theme was "Centering My Life on the Paschal Mystery of Christ" and was led by Fr. Marco and Fr. Rafael Ducci, LC, who made his first visit to Hong Kong from Rome. Fr. Joseph, who initiated these annual triduum retreats twelve years ago, joined the retreat on Saturday.
Joan Foo Mahoney, an author and publisher living in Hong Kong and Kuala Lumpur, attended the retreat with her husband, Terry, and writes about it her experience in her newsletter Smitten by Faith:
"At the retreat, Fr. Marco taught us to look at our Christian faith as an organic whole, and not segment various aspects of our faith in accordance with the liturgical calendar of the Church. Instead, independent of the calendar, we should bring the Paschal mystery – the death and resurrection of Jesus Christ – right smack into the center of our lives. This will enable us to live our everyday lives in the Christian way, sharing the good news with others."
And in April of this year, Regnum Christi members and friends followed in the footsteps of the Korean martyrs in a pilgrimage to Seoul and surrounding areas in South Korea. They also had a workshop in Macau where RC members meditated on and deepened their rootedness in the Regnum Christi charism, and participated in a lively exchange surrounding some of the issues to be addressed in the upcoming general convention to be held in Rome of next year.
Fr. Marco Cho, LC, has been serving in Hong Kong for just a little over a year and a half, taking up full-time residence there in January of 2022. He now serves as spiritual director for the new Regnum Christi team in Hong Kong, and is responsible for the formation of RC members, friends, and other English-speaking Catholics in Hong Kong.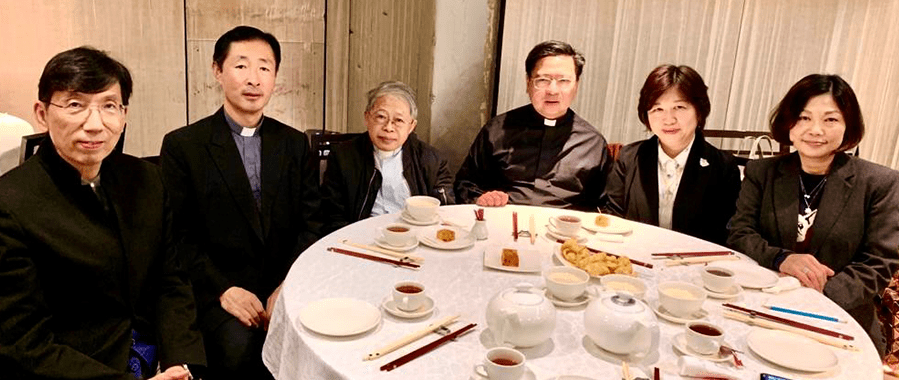 The Regnum Christi community in Hong Kong is relatively new, and small – most of the members, of which there are about a dozen from Hong Kong and Macau, associated with Regnum Christi in January 2020, in a Mass presided by Fr. Joseph, Fr. Marco, and Fr. Thomas Montanaro. And the small size of the RC family in Hong Kong certainly presents its challenges. Fr. Marco hopes to eventually have a larger Legionary community and increased Regnum Christi infrastructure, in the form of a meeting space or center, as the movement grows in Hong Kong. In fact, the RC team recently held their first family "Come and See" day, where interested friends were invited to experience and learn more about Regnum Christi, and as a fruit of that event, many people are going through discernment through a team-led process and personal accompaniment.
In his work with this small but committed RC team in Hong Kong, Fr. Marco has found authentic human connection and genuine friendship. "I love working with these proactive people, who are willing to collaborate in the work of building the Kingdom, and who have grown to love our charism," shares Fr. Marco. "Their commitment to the movement and the way they give their time and energy is remarkable, considering the heavy demands a big city like Hong Kong places on their time and resources. They have a great thirst for formation and a real dedication to living our charism in this secular metropolis."