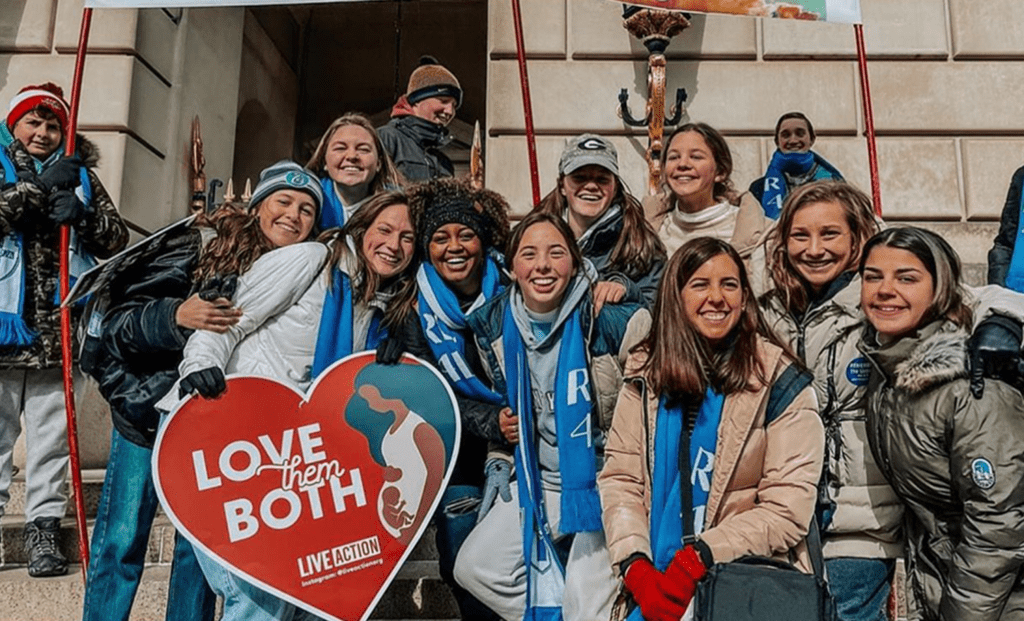 When Mary Peach was just 12 years old, her entire life changed. Since then, through the gift of adoption, she has embarked on a beautiful life of healing, thriving, and continually sharing her faith and her love for God in new and creative ways.
Born in Ethiopia, Mary and her twin sister were adopted into the Peach family in 2010. The rest of her childhood was spent in Hartville, Ohio, near Akron, surrounded by eight other sisters and brothers, five of whom are also adopted. For Mary, her new life in the Peach family was a fun and wild adventure.
Shortly after arriving in the United States, Mary was fully immersed in the life of Regnum Christi. The eldest of Mary's sisters, Rachel, who is now a Consecrated Woman of Regnum Christi, was studying in Rhode Island, where Mary immediately began attending summer camps and various retreats. "It was a baptism by fire!" says Mary. "Early on, when I had my very first encounter of Christ, I had an overwhelming desire to be his friend – from the very beginning, I just couldn't wait to go back to summer camp and retreats!" Mary and her sisters fundraised during the year so that they could travel to attend as many ECYD and Challenge camps and retreats as they could.
In 2013, when she was 15 years old and finished her freshman year in high school, Mary spent six weeks in Cincinnati on an Regnum Christi Mission Corps summer mission. During that time, Mary experienced a deepening of her relationship with Jesus and an increased desire to serve, but she also fell in love with the city of Cincinnati, where she currently lives.
After graduating high school, Mary pursued a Bachelor in Human Development and Family Studies with a focus on Family Life Education, receiving her degree in December of 2020. After working right out of college as an instructional aide, Mary now teaches 5th and 6th grade religion at St. Pius X School in Edgewood, Kentucky.
Mary's own faith experience as a child, and as an adoptee, continues to inform her work as a teacher today. "Seeing Jesus as a friend in 6th grade, at such a young age, allowed me to see that I had no reason not to trust him and offer him everything that was on my heart," says Mary. "As someone who is adopted and has so much history and past traumas, I learned early on that I could give the weight of that to Jesus and he would receive it all. I always saw God as an understanding God, someone who took everything I was carrying and could turn it into something beautiful, even when I felt confused and hurt by my memories and my past."
The older Mary got, the more she realized that her own relationship with Jesus relied on an intentionality in everything that she did: she strived to focus everything in her life – friendships, activities, schoolwork, sports – around God. Growing up in an active Regnum Christi family, alongside siblings who attended Challenge or Conquest and were a part of ECYD, including a sister who went on to become a Consecrated Woman of Regnum Christi, and parents who are both active RC members, Mary made lifelong friendships and developed a strong faith that she is eager to share with all those around her.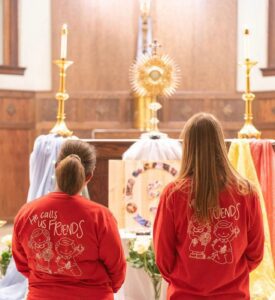 The best part of Mary's job as a teacher of religion to 5th and 6th graders is the opportunity she has to share her own faith and help her students build a relationship of trust and confidence with Christ. During her own middle school education, Mary often tired of "just following the rules," and she desires to be an instrument of the Holy Spirit to inspire her students in their faith and help to share with them what the Catholic faith truly is:
"I wish I had learned the faith in a way that was not only exciting, but that helped me to understand why we do what we do, why the sacraments are important. I'm hopefully giving my students what I wish I would have had when I was their age – a sense that the faith is so exciting and beautiful, it's a faith and traditions they get to be a part of, no matter how young they are! It's been such a gift to be able to share that, to help strengthen their relationship with Jesus and begin to spark that desire to have a friendship with him. To see their faith flourish, and to witness the ways that they find the Holy Spirit and God in different moments has been such a blessing for me – it's such a beautiful gift to teach young people about their faith!"
Mary is now 25 years old, and her involvement with ECYD and Challenge hasn't stopped. She helps with the Challenge Club that runs out of her school, and has also been working closely with ECYD nationally and internationally, collaborating with the ECYD national and international directors, as well as local ECYD directors, to help offer retreats and other activities. Throughout the summer, she helps run summer camps and conventions both in Cincinnati and beyond, and helps with training of the Regnum Christi Mission Corps missionaries.
And Mary's connection to Regnum Christi, ECYD, and Challenge in Cincinnati is extra-special: her sister, Rachel, has been a part of the consecrated community there since September of 2020, so the two are able to work together and stay connected in a concrete way serving and living the RC mission.
One unique way that Mary has been sharing her faith recently is through social media, and it has quickly become a passion of hers. "A few years back, I realized that so many people looked at social media and technology with this negative perspective, that It's bad for you, that people – especially young people – waste too much time on it," says Mary. "Although some of this is true, I realized that I could use social media in a positive way." Since then, Mary has been creating content that promotes connection by sharing her personal spiritual experiences in a fun and positive light. She recently has been assisting with social media for Regnum Christi Music Collective and with local RC websites, and helps to promote other good Catholic and Christian content on a variety of platforms.
Mary is currently pursuing her master's degree in psychology, with a focus on marriage and family studies, through Divine Mercy University, and continues to be open to how the Lord is calling her to share her faith in every aspect of her life. "Life has been such a beautiful gift, and it's been a blessing to be a part of the Regnum Christi family and everything that has come along with that!"
To find out more about ECYD and Regnum Christi in Cincinnati and the Ohio Valley, visit their website at rcohiovalley.org.
You can follow Mary on social media on Facebook and @marypeach98 on Instagram.