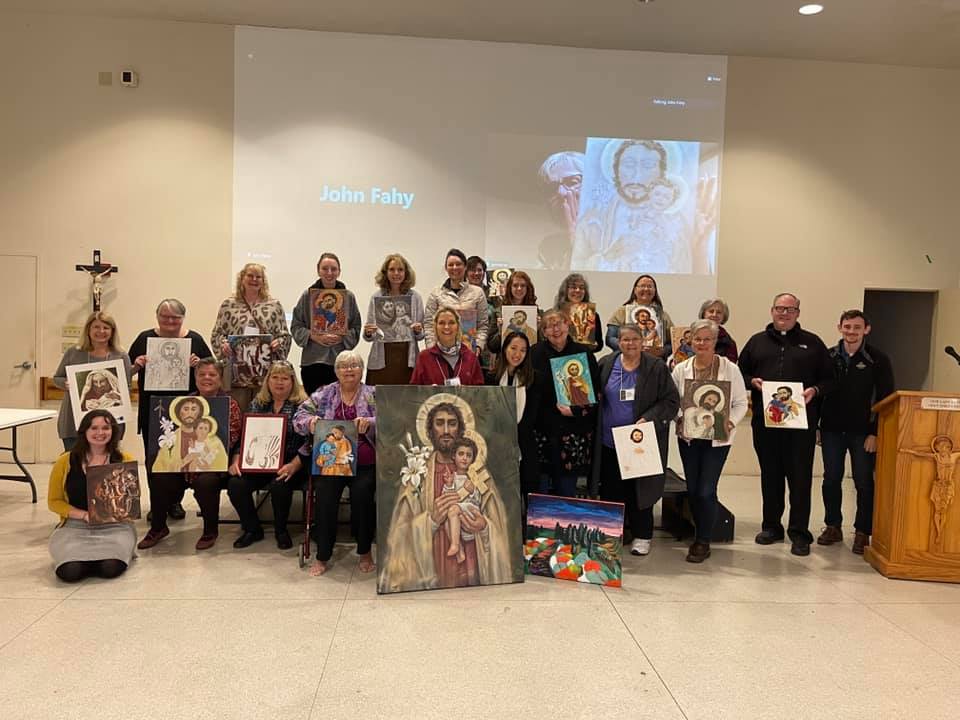 "Art is the Way of Beauty. It has a special way of piercing our hearts in order to receive grace."
These are the words of Holly Schapker, a Cincinnati artist who has been working closely with Fr. Thomas Flynn, LC, and Called to Create, an initiative established in the Ohio Valley area by artist and educator, Laura Kline, and designed to spiritually nurture Catholic artists and encourage them to use their creative gifts as a means of sharing God's truth and love through their artwork.
One of the many offerings of the Called to Create apostolate is the annual artists' retreat, which provides the space for artists to create in a way that collaborates with the Holy Spirit while exploring a different spiritual theme each year. Last November, in response to 2021 being declared by Pope Francis The Year of St. Joseph, the Called to Create group decided to delve into what St. Joseph, who was a craftsman and artisan himself, could mean to them as artists. At the retreat, Holly shared the process that went into her creation of an oil painting of St. Joseph holding the child Jesus, while Fr. Thomas spoke on the theme of the fatherhood of St. Joseph, demonstrating to the participants the important and profound connection between art and theology.
Indeed, for Holly, her Catholic spirituality and the creative process are closely linked. "My paintings depict my quest for truth, goodness, and beauty. Before my easel, I may practise lectio divina meditation or a centering prayer;
I intend to relinquish my personal control of the brush to God, which results in unexpected gifts that I humbly receive." During the November retreat, Holly and Fr. Thomas collaborated on prayers, meditations, and the overall structure of the weekend. Fr. Thomas created his own portrait of St. Joseph and Jesus along with the other artists, and upon Holly's request, allowed her to paint on his canvas. "I enjoyed working with him, and in the process, we created a new friendship as well as a new piece of art!"
It was the Associates Degree in Fine Arts that he received during his time spent at the Legionary Novitiate in Cheshire, Connecticut that initially inspired in Fr. Thomas not only an interest and appreciation for art, but also a zeal to reach out to and collaborate with artists like Holly and the Called to Create group. "I have always been very interested in the relationship between theology and art, and how my work as a theologian can help artists in the shaping of their work, and how it can help spread the faith," says Fr. Thomas who, along with ministering to local artists in the Ohio Valley, serves as the chaplain to the Women's Regnum Christi Section in the Greater Cincinnati area, the chaplain to the Consecrated Women, and the assistant chaplain to the Regnum Christi Men's Section.
Debbie Graviss, a Kentucky artist who attended the St. Joseph retreat, shares the fruits from her own retreat experience: "It is so encouraging to be with other artists and share in the creative process together, and I found Fr. Thomas' presence and support, and especially his participation as an artist, a real comfort. I am convinced that the Holy Spirit is moving through art in and new and powerful way, and I'm finding in my own professional art studio and practice that art is a gateway into healing and evangelization with people who would otherwise not step into a church."Called to Create member, Karrie King, attended her first retreat in 2015, and has attended every retreat since then, including the virtual retreat held in the fall of 2020; the artist retreats provide a yearly spark for her artistic and spiritual progress and well-being. But for Karrie, and many other Called to Create members from Northwest Ohio who make the annual pilgrimage south to the retreat, once a year simply did not feel like enough. "It left us thirsting for more of the marriage of art and spirituality!"
Together with her aunt, Lucille Smith, who has attended every Called to Create retreat since the first one held in 2014, Karrie decided to organize a monthly gathering, called "Paint and Pray," with artists from her parish and the neighbouring parish. The group, which started with six individuals and has now grown to nearly 20, meets once a month to create art and pray the rosary together. And when even meeting once a month was not often enough, the group started gathering weekly for plein-air painting sessions (called "Van Go") at local sites or a member's home, inviting people of all faiths to join them in praising God through the creation of art.
The newest development that has stemmed from these art groups and, initially, the Called to Create retreats, is an art gallery that the group established at their church of Holy Trinity Parish in Assumption, Ohio. The group curates spiritual exhibits that are displayed in the St. Joseph Commons Gallery, and are changed every two to three months. Some of the exhibit themes include "The Many Faces of Jesus," "All Saints," "Mary Gardens: A Celebration of God's Creation," and "Building God's Kingdom," which was a student project and parish photography exhibit that presented images of the church and the parish grounds. The gallery also features an exhibit entitled "Called to Create," where participants display the artwork they created while on the annual artists' retreat. The current exhibit on display, called "Building God' Kingdom," features architecturally inspired artwork accompanied by related passages from Scripture.
"As you can see, the Called to Create Catholic Artists' Retreat has inspired many additional art experiences for our local group of artists, and Laura Kline lit a fire when she started this series of retreats," says Karrie. "May all future Called to Create retreats continue to enkindle a fire in both the artists and those who are drawn closer to God through their art!"
The theme for this year's upcoming retreat, to be held November 3-6, 2022, is "Altogether Beautiful," inspired by a newly discovered retreat for artists written by John Paul II in the
late 1960s. The November retreat will be one of the first ever to utilize this work by John Paul II and directly experience the ideas he wanted to convey to artists about the power of beauty to draw people to God. Bill Donaghy, from the Theology of the Body Institute, will be the artist presenter, and Eric Genuis, a well-known concert pianist and Regnum Christi member, will perform for the retreatants and the public on Saturday night. For more information about registering, volunteering, or promoting the retreat, or for attending the public portions of the event, please email [email protected].
Currently, Holly Schapker is working on the Stations of the Cross for a church on the west side of Cincinnati. She also has an exhibit based on Ignatian Spirituality which will be showing at St. Francis Xavier Church until July 31. You can check out her artwork on her website at hollyschapker.com.