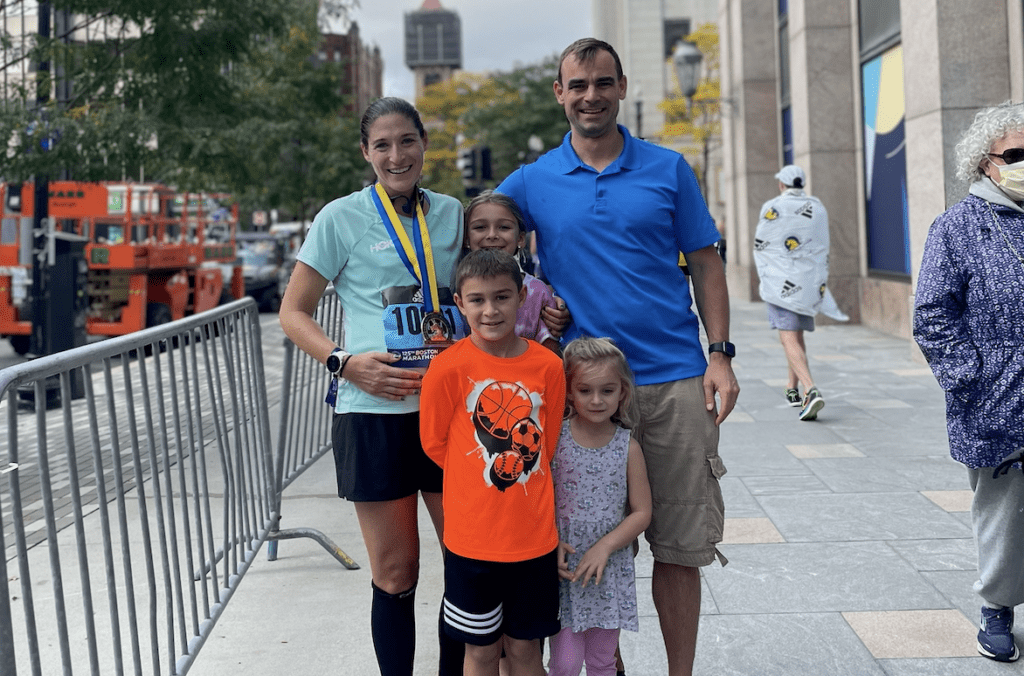 For Kristen LeCompte, motherhood and fitness go hand in hand. She's both a stay-at-home mom and a part-time fitness instructor, and has been working with a fitness program called Fit4mom, a program that supports wellness in women throughout all stages of motherhood, since her oldest daughter was born. But when she signed up to run the Boston Marathon in October of last year, she didn't know she'd be doing it seven months pregnant!
Kristen's decision to run the Boston Marathon actually started to take shape back in 2015. She had had high hopes for herself during her first qualifier, but ended up needing to walk most of the race, encouraged along the way by Fr. Edward Hopkins, LC, who ran the half-marathon, and Fr. Michael Sliney, LC, an avid marathoner. This first marathon experience led Kristen to take time to understand and attain the physical and mental fitness she would need to achieve the goal time at the Boston qualification race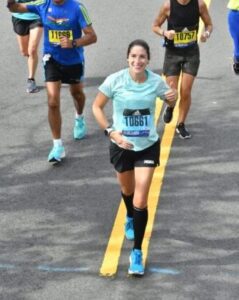 In 2018 in Hartford, Connecticut, Kristen made the time and was set to run the Boston Marathon on April 20, 2020. When the COVID pandemic arrived it cancelled, among so many other things, the race for which Kristen had worked so hard to qualify.
When the opportunity finally arrived for Kristen to run the Boston Marathon in October of 2021, she did not hesitate to apply. A week later, she found out she was pregnant with her fourth baby! Kristen knew that this meant that she would be attempting to run the marathon 28 weeks pregnant, just into her third trimester, but this only made her desire to complete the marathon even stronger. "I knew this would take faith and would be more than just running a marathon," says Kristen. "It would become a pilgrimage of sorts."
Kristen's resolve to run the race seven months pregnant didn't stave off all uncertainty; several months before the race, during one of her longer runs, Kristen had a moment of doubt "I started asking myself 'why am I doing all of this, what's the point?'" She was still early in her pregnancy, and she knew that the runs would only get longer and harder as her baby grew and the race drew nearer. But a supernatural motivation urged her on:
"I had this moment of light about doing this for all those expectant mothers struggling with the reality of having a child. Unfortunately, many women today make the heartbreaking decision of abortion, and I wanted to embrace the challenge of the marathon as a sign that we can do really difficult things as moms and expecting mothers. And I wanted to offer up all my pain and sacrifice for all those expecting moms who were struggling with this very decision."
On the day of the race, Kristen felt physically ready and spiritually supported by her faith and her Regnum Christi family. On the Sunday before race day, the group attended a runners' Mass with other Catholics who would be participating in the marathon the following day, and received a special blessing. Katie Tuttle, a Consecrated Woman of Regnum Christi, and Fr. Daniel Pajerski, LC, who concelebrated the runners' Mass, also ran in the marathon the next day.
"The day of the race was very beautiful," recalls Kristen. "Obviously, being seven months pregnant, it was not my fastest marathon, but in a sense, it was the most meaningful." Kristen was able to run the first half before run-walking the last 12.1 miles. At the half-way mark, Kristen's husband, Brenner, and their three children surprised her by being there and running a little of the way with her!
However, the most emotional part of the race for Kristen came when she ran past Boston Children's Hospital. One year prior, her teenage nephew had passed away, and it was at Boston Children's Hospital that he had undergone open heart surgery as a toddler. "Knowing that he had been there, that many other kids like him are battling there, and that so many parents like my brother and sister-in-law have to be so strong as they go through these truly life changing challenges motivated me to press on."
After training for seven months and running the Boston Marathon with her unborn baby, Kirsten couldn't wait to meet her! Seraphina Grace was born on January 8th, 2022, and fits in perfectly with her three siblings, Mariella (9), Brenner (7), and Juliette (4). Seraphina is named after the fiery choir of angels devoted to worshipping God.
Kirsten's first experience with Regnum Christi was at Loyola University Maryland where she went to college. She participated in the door-to-door missions in Washington, D.C., and the Regnum Christi spirit of an active, moving mission continues to resonate with her. "I think the reason why I have always found my spiritual home in Regnum Christi is because I always like to be on the move, active, pushing forward," says Kristen, who sees her vocation to Regnum Christi as deeply connected to her joy in running. "One of my favorite Bible verses is Hebrews 4:12, 'The Word of God is living and active.' I think often about this verse when running, and it reminds me of who I am called to be as an RC apostle. I consider my RC vocation and my fitness to be intimately intertwined."
Kirsten lives in Ridgefield, Connecticut and is part of the New York TriState Regnum Christi locality. She and her husband currently help run the Challenge and Conquest clubs that their children attend at their local parish. She is grateful for her Regnum Christi brothers and sisters who were praying for her throughout her pregnancy and training, and for the tremendous example of living an active, moving mission that they have provided her and her family over the years.