Earlier this fall, Consecrated Woman of Regnum Christi, Lorianne MacDonnell, and Regnum Christi member Tara White, collaborated to host Rest and Retreat (R & R), a Christian retreat experience focused on God's plan of authentic rest. The retreat is designed to provide a personal, peaceful, and playful environment where people can gather together in community to be restored, renewed, repaired, replenished, and revived spiritually, mentally, and physically. It is the goal of the retreat that participants will come away with the knowledge and practices needed to thrive in their daily routine towards a healthy well-being.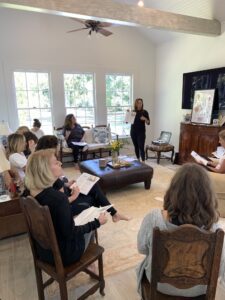 It was while Lorianne was working in Cincinnati that the idea for the retreat started to take shape. "The Lord placed the word rest on my heart, and it was a word that I just kept praying about." During Covid, Lorianne gave an online retreat exploring various Gospel passages that shed light on the word 'rest,' but even then, she knew this was just the beginning. "I knew there was more to unpack, and the Lord, in his generous and patient timing, started to reveal this little by little."
Tara, who is a Pietra fitness instructor, had also been exploring, for many years, the wholeness that comes from integrally caring for and nourishing the whole self – body, mind, and soul. And for Tara, this care includes rest.
"We're so fixated on modern productivity in our culture that we don't know how to seek authentic rest, and often we've made our lives so saturated in doing more things that we have lost the balance in doing the most important things well. Authentic rest is a spiritual discipline that affects everything we do, from going to Mass and spending time with God in prayer, to moving and fueling our bodies with clean, whole foods. It is not a luxury: it is a spiritual practice. It's a choice. Rest is a grace we extend to ourselves, and this grace gives us the opportunity to put back into order anything that has shifted out of alignment with God's plan. It's the key to how we live and move and have our being (cf. Acts 17:28) – God didn't just give us a soul, but he also gave us a mind and a body, and authentic rest asks us to consider how we are bringing these all together and caring for all of these gifts."
Initially, Lorianne and Tara had imagined the retreat to be a source of evangelization for those who were still taking first steps along their spiritual journey, or a gentle encouragement for those who had fallen away from their faith to return to the sacraments. For this reason, they had invited twelve women with a variety of spiritual experiences, not just seasoned Mass-goers, but also those who did not go to church at all. What they found was that even those who were already strong in their faith often lacked the balance and well-roundedness that comes from integrating authentic rest into all aspects of life, and that even the long-time Regnum Christi members who attended gained a new and refreshing wholeness from their participation in the retreat.
The one-day retreat was held on September 9th in Pass Christian, Mississippi, and hosted 12 women. The day began at 10:00 a.m. with a welcome and opening prayer, followed by a Pietra Fitness movement session, a workout which combines stretching and strengthening with Christian prayer and meditation – this session was led by Tara herself. Retreatants then enjoyed a juice and snack while they learned about the lymphatic system, then participated in a journaling session and a Christian meditation on rest, led by Lorianne. After lunch, the women attended several different sessions on a wide variety of topics on the theme of healthy and creative rest, including general nutrition, mind detox, dance, leisure, painting, and gratitude. The day wrapped up with an examen and round table discussion, closing in a Litany of Self-Love. Mass and confession were also available.
While Lorianne and Tara are the co-founders and the retreat directors, they had four other Regnum Christi women give of their time and talents towards making the event a success, by presenting talks, offering hospitality, and designing the print materials and artwork for the retreat. "It was beautiful to watch these RC women bring their gifts and put them at the service of their sisters," says Lorianne. "I enjoyed seeing that come to life, women building up other women, our own RC sisters using their talents, and opening the door for many more of our members to use and share their gifts." In the R & R experience, even Lorianne herself was able to put her Bachelor of Science in Nutrition and Consumer Studies, which she obtained before she became consecrated, to good use. "I love how the Lord uses everything – nothing goes to waste if we're willing to surrender and make it available to him, to give him access to our heart and use everything the way he wants to use it."
The goal of the retreat was to help the women feel the sense of wholeness that comes when mind, body, and soul come together, and to be urged to continue to seek this wholeness in their daily lives. Their motto of "Rest well and be well" reflects the idea that peace, health, and healing come from the integration of the whole self. In this way, R & R echoes Regnum Christi spirituality, one which is centered on the integral formation of the entire person. "I think that's why the idea of this retreat resonates with Tara and I so much," says Lorianne. "With the love we both have for Regnum Christi, the love for our spirituality, it's been beautiful seeing this integration come to life, and seeing how it can serve women and make them more whole."
With the next retreat booked for March 22-23, 2024, Tara and Lorianne are eager to see where the Lord will take this R & R initiative. "He's opening the doors and we're taking steps," says Tara. "We're all in, and ready to see how God wants this all to unfold." Tara and Lorianne hope to offer weekend retreats, in addition to their one-day retreats, and their dream is ultimately to be able to host these retreats in different locations, like the beach and the mountains, where participants can spend time in the beauty of God's creation.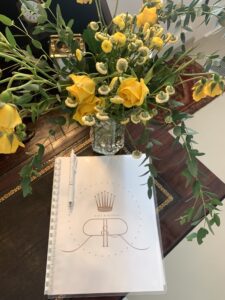 To find out more about the R & R initiative or to inquire about hosting a retreat in your area, email [email protected]. The R & R website, restandretreat.org, will be launching soon; email to be put on their newsletter to receive news and updates on the R & R initiative.
You can also read more about Tara's own journey towards health and hope, and becoming a Pietra Fitness instructor, here.