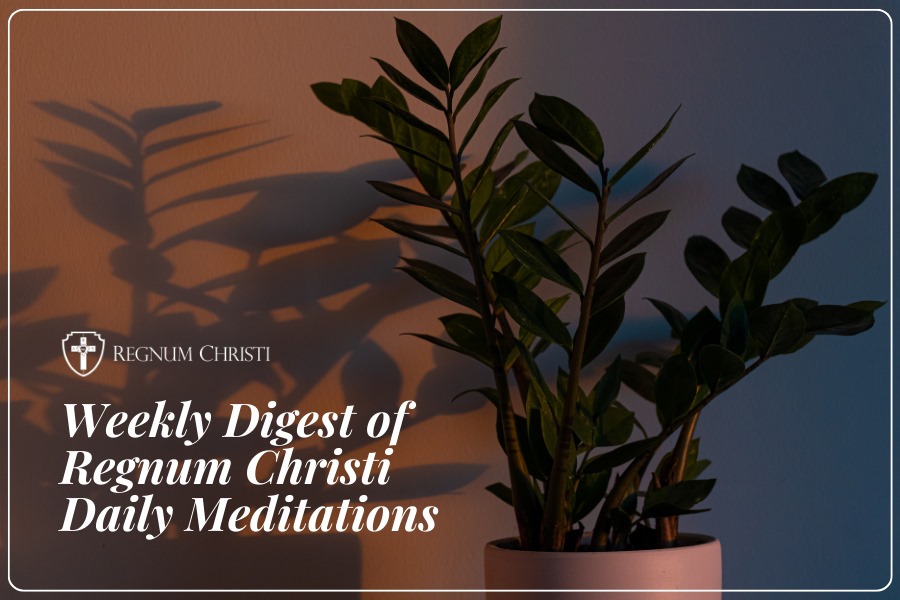 THE WEEKLY DIGEST
OF REGNUM CHRISTI
DAILY MEDITATIONS
Sunday, November 19, 2023 - Invest in Christ
Thirty-Third Sunday in Ordinary Time
Matthew 25:14-30
Jesus told his disciples this parable: "A man going on a journey called in his servants and entrusted his possessions to them. To one he gave five talents; to another, two; to a third, one—to each according to his ability. Then he went away. Immediately the one who received five talents went and traded with them, and made another five. Likewise, the one who received two made another two. But the man who received one went off and dug a hole in the ground and buried his master's money. After a long time the master of those servants came back and settled accounts with them. The one who had received five talents came forward bringing the additional five. He said, 'Master, you gave me five talents. See, I have made five more.' His master said to him, 'Well done, my good and faithful servant. Since you were faithful in small matters, I will give you great responsibilities. Come, share your master's joy.' Then the one who had received two talents also came forward and said, 'Master, you gave me two talents. See, I have made two more.' His master said to him, 'Well done, my good and faithful servant. Since you were faithful in small matters, I will give you great responsibilities. Come, share your master's joy.' Then the one who had received the one talent came forward and said, 'Master, I knew you were a demanding person, harvesting where you did not plant and gathering where you did not scatter; so out of fear I went off and buried your talent in the ground. Here it is back.' His master said to him in reply, 'You wicked, lazy servant! So you knew that I harvest where I did not plant and gather where I did not scatter? Should you not then have put my money in the bank so that I could have got it back with interest on my return? Now then! Take the talent from him and give it to the one with ten. For to everyone who has, more will be given and he will grow rich; but from the one who has not, even what he has will be taken away. And throw this useless servant into the darkness outside, where there will be wailing and grinding of teeth.'"
Introductory Prayer: Lord Jesus, I know that you don't want me to live my life in fear. Only one type of fear is legitimate: the fear of losing you. Because I know you will never leave me, I am not afraid of this either. I know that I can lose you only if I leave you. Jesus, I place my hope in you and offer you all my love.
Petition: Heavenly Father, grant me the grace of increased hope and trust in you.
To Whom Much Is Given, Much Is Expected: At times, life can seem a little overwhelming, and we can feel we just don't have what it takes. Then we are reminded of a certain truth: Christ never gives us more than we can handle! When Christ gives us a mission or allows a temptation, he always provides the talents and grace to complete that mission or resist that temptation. What, then, is there to be afraid of? Each of us has been given a certain amount of talents; thus, we are expected to bear a certain amount of fruit. We are not expected to bear fruit beyond the talents we have been given. Each of us is faithful to the degree in which we glorify God by using our talents!
There Is Nothing to Fear but Fear Itself: St. John tells us that "God is love." There is, then, only one proper response to him: love. It is amazing to think that we can fear him who is described simply as "love." We might fear what will happen in the future—college, job, family, and so on—but does this really solve anything? If we look into the past, it's easy to see that many of our fears were unfounded and unrealized. So why is this fear present? Satan will use any means to separate us from our God who is love. If he can't get us to fall by committing sin, he paints a picture that might make us fear or fall into discouragement. It has been said that "after mortal sin our biggest enemy is discouragement." Our faults keep us humble, aware that we are always in need of Christ. No disposition brings greater joy to the heart of Christ than that of a humble, trustful child.
Take a Risk for Christ: Christ took the ultimate risk for me! He died knowing full well that I might not choose him, and yet the small chance that I would, far outweighed the chance that I would reject him. Again I am reminded that Christ didn't die for a whole mass of people, but that he died for each of us individually: He died for me! Jesus, I want to be like the first disciples who loved you with an unrestrained love. I want to go out on a limb for you! I want to offer my life for the salvation of one soul, knowing full well that he might not choose you!
Conversation with Christ: Lord Jesus, I know that you do not want me to be afraid of failure. I know that if I try my hardest for you, there will be no such thing. Please help me always to fight courageously in order to better myself for your glory.
Resolution: Today, when the opportunity presents itself, I will speak to someone about Christ.
Monday, November 20, 2023 - Seeing with Faith
Monday of the Thirty-Third Week in Ordinary Time
Luke 18:35-43
As Jesus approached Jericho a blind man was sitting by the roadside begging, and hearing a crowd going by, he inquired what was happening. They told him, "Jesus of Nazareth is passing by." He shouted, "Jesus, Son of David, have pity on me!" The people walking in front rebuked him, telling him to be silent, but he kept calling out all the more, "Son of David, have pity on me!" Then Jesus stopped and ordered that he be brought to him; and when he came near, Jesus asked him, "What do you want me to do for you?" He replied, "Lord, please let me see." Jesus told him, "Have sight; your faith has saved you." He immediately received his sight and followed him, giving glory to God. When they saw this, all the people gave praise to God.
Introductory Prayer: Lord Jesus, you are the Alpha and the Omega. You have given me life and offer me eternal life with you. You deserve my honor, gratitude, and love, and yet you never impose yourself upon me. Thank you for respecting my freedom so that I can offer myself to you. All that I have is yours; I return it to you.
Petition: Lord, grant me greater faith in your constant and continual presence in my life.
Begging by the Roadside: How many times in life have we felt like this blind beggar sitting by the roadside, down-and-out and hard on luck—physically, spiritually or emotionally? Witnessing our distress, some people simply walked by without a care. Maybe they tossed us a coin, though they didn't really help us out of our discouragement or difficulty. Others might have jeered at us or not dared to look at us. Some may even have scolded us, like the people in the Gospel telling the beggar "to be silent." Just as the blind beggar of today's Gospel could not give himself what he most desired—sight—, we are unable to give ourselves what we most need—faith. Do I regularly ask for an increase of faith? Am I aware of how much I need a strong faith?
Jesus Is Passing By: The book of Job tells us that "life on earth is a drudgery" (cf. Job 7:1). It shouldn't be surprising, then, when in our lives as Christians we take some real blows and even some falls. God doesn't want us to become discouraged. He wants us to see these as opportunities to turn to him, the source of the strength and help we need. Other voices will tell us to be quiet and not bother the Master: "After all, you just need to work things out," "With so much going on, how can you find time to pray?" Jesus constantly passes by. He is the only one who can bring me the peace my heart desires and longs for. "Jesus, Son of David, have pity on me!"
"Lord, Please Let Me See": Jesus promises us that he will listen to our request, just as he did to the blind man. But what should our request be? To have a more comfortable chair so as to sit by the road and beg with ease? To have a beautiful silver cup to collect coins in? Or to see? Often what we really need is not what we ask for in prayer. We need the vision that only the supernatural virtue of faith can give. We need the ability to see everything from God's vantage point and to see how the difficulties and trials we experience are part of a bigger picture. We need to have the firm assurance of the final victory of the Lamb, Jesus, and the strength to persevere in fidelity. Lord, please let me see… Please increase my faith.
Conversation with Christ: Lord Jesus, allow me to praise and glorify you for your constant companionship and for never leaving me alone in my struggles and trials. Increase my faith so that I will be able to experience your love even amidst difficulty and trials.
Resolution: I will pray three "Our Fathers" for an increase of faith among my family members.
Tuesday, November 21, 2023 - Jesus Is My Guest
Memorial of the Presentation of the Blessed Virgin Mary
Luke 19:1-10
At that time Jesus came to Jericho and intended to pass through the town. Now a man there named Zacchaeus, who was a chief tax collector and also a wealthy man, was seeking to see who Jesus was; but he could not see him because of the crowd, for he was short in stature. So he ran ahead and climbed a sycamore tree in order to see Jesus, who was about to pass that way. When he reached the place, Jesus looked up and said, "Zacchaeus, come down quickly, for today I must stay at your house." And he came down quickly and received him with joy. When they saw this, they began to grumble, saying, "He has gone to stay at the house of a sinner." But Zacchaeus stood there and said to the Lord, "Behold, half of my possessions, Lord, I shall give to the poor, and if I have extorted anything from anyone I shall repay it four times over." And Jesus said to him, "Today salvation has come to this house because this man too is a descendant of Abraham. For the Son of Man has come to seek and to save what was lost."
Introductory Prayer: Lord Jesus, you are the Alpha and the Omega. You have given me life and offer me eternal life with you. You deserve my honor, gratitude, and love, and yet you never impose yourself upon me. Thank you for respecting my freedom so that I can offer myself to you. All that I have is yours; I return it to you.
Petition: Lord, increase my faith.
Zacchaeus up a Tree: Yesterday and today's Gospel passages speak eloquently of the need to encounter Christ at all costs. The blind man we read about yesterday would not stop shouting until he was brought to the Lord. Today a short and very unpopular man named Zacchaeus runs back and forth among the crowd until finally, in his determination to encounter Christ, he breaks all protocol and scrambles up a tree. Jesus wastes no time in entering this tax collector's life decisively and transforming it. This resembles our own encounter with Christ. At times different obstacles stand in our way and prevent us from seeing Our Lord and his action in our lives. Above all we lack determination. How easy it is to craft excuses: "I am just too short," "Maybe Jesus is too busy," "I am just a sinner." If we really want Our Lord to stay at our house, he will, but there may be trees that we need to climb first.
Welcoming Jesus: Few people ever welcomed Jesus with the joy and exuberance as did this little man. He came down from the tree, gave half of his wealth to the poor, and promised to restore any fraudulent transactions four times over. Zacchaeus has truly been like that merchant in search of fine pearls (cf. Mt 13:45-46). He is willing to sell all he has to buy the pearl of great price: friendship and intimacy with the Lord. How many times has Jesus looked up at us and asked us to remain with him? How many times have we had the immense grace of receiving the King of Kings into our hearts in the Blessed Eucharist? Do we offer merely a corner of our hearts for him, or do we reserve the presidential suite? How pure do we maintain our souls for our Guest?
Of Sinners and Saints: What makes someone a saint and someone else a sinner? Certainly, it is not the grumbling of the jealous crowd who are unwilling to climb up the tree to see Jesus yet are quick to criticize anyone who does. In fact, everyone is a sinner. St. Paul writes, "Christ Jesus came into the world to save sinners. Of these I am the foremost" (1 Tim 1:15). Yet St. Paul, Zacchaeus, you and I all go from being sinners to saints when we encounter Christ and are faithful to his friendship. Salvation came to Zacchaeus' house when Jesus entered it, and salvation comes to us through the graces received at baptism, renewed in the Sacrament of Penance, and nurtured in the Eucharist.
Conversation with Christ: Jesus, help me to be willing to do whatever it takes to grow in a deeper friendship with you. Don't allow me to worry about the murmurings of the crowd, but only to listen to your voice and respond to it with generosity.
Resolution: I will make a point to go to confession at the next possible opportunity, asking Jesus to forgive me my sins and to help me to turn from being a sinner into being a saint. I will make it a real encounter with Jesus.
Wednesday, November 22, 2023 - Kings and Gold Coins
Memorial of Saint Cecilia, Virgin and Martyr
Luke 19:11-28
While people were listening to Jesus speak, he proceeded to tell a parable because he was near Jerusalem and they thought that the Kingdom of God would appear there immediately. So he said, "A nobleman went off to a distant country to obtain the kingship for himself and then to return. He called ten of his servants and gave them ten gold coins and told them, 'Engage in trade with these until I return.' His fellow citizens, however, despised him and sent a delegation after him to announce, 'We do not want this man to be our king.' But when he returned after obtaining the kingship, he had the servants called, to whom he had given the money, to learn what they had gained by trading. The first came forward and said, 'Sir, your gold coin has earned ten additional ones.' He replied, 'Well done, good servant! You have been faithful in this very small matter; take charge of ten cities.' Then the second came and reported, 'Your gold coin, sir, has earned five more.' And to this servant too he said, 'You, take charge of five cities.' Then the other servant came and said, 'Sir, here is your gold coin; I kept it stored away in a handkerchief, for I was afraid of you, because you are a demanding man; you take up what you did not lay down and you harvest what you did not plant.' He said to him, 'With your own words I shall condemn you, you wicked servant. You knew I was a demanding man, taking up what I did not lay down and harvesting what I did not plant; why did you not put my money in a bank? Then on my return I would have collected it with interest.' And to those standing by he said, 'Take the gold coin from him and give it to the servant who has ten.' But they said to him, 'Sir, he has ten gold coins.' He replied, 'I tell you, to everyone who has, more will be given, but from the one who has not, even what he has will be taken away. Now as for those enemies of mine who did not want me as their king, bring them here and slay them before me.'" After he had said this, he proceeded on his journey up to Jerusalem.
Introductory Prayer: Lord Jesus, you are the Alpha and the Omega. You have given me life and offer me eternal life with you. You deserve my honor, gratitude, and love, and yet you never impose yourself upon me. Thank you for respecting my freedom so that I can offer myself to you. All that I have is yours; I return it to you.
Petition: Lord Jesus, teach me to be patient and persevering in using my talents to serve you and my neighbor.
Jesus, the King of Kings: Nowadays there is renewed interest in the imminence of the Lord's return in glory. Every Sunday when we recite the Creed, we attest to our faith that Christ "will come again to judge the living and the dead." But we also know that we do not know when it will be, as Our Lord clearly states: "But of that day and hour no one knows" (Mt 24:36). So, what should we do in the meantime? The answer is very simple: Live faithful to the values of Christ's Kingdom and show that he is our King right now. Are there any areas in my life where Christ is not ruler? Am I faithful to my Christian commitments? Do I use my time well?
Earning One Gold Coin at a Time: In today's parable each servant receives only one gold coin, but some invest it better than others. There are some gifts that God has given all of us in equal measure and some that we each receive in varying degrees. At baptism we receive the gifts of faith, hope, and love in seed form, so to speak, and it is up to us to make sure they are cultivated, irrigated, and exposed to enough light so that they will grow and bear fruit. These gifts of faith, hope, and love are not given to us just for rainy days or moments of trial, but rather to keep us focused on who we are as children of God and heirs to the Kingdom of heaven. Exercising these virtues is like earning gold, one coin at a time. How often have I thanked God for his gifts of faith, hope, and love? Do I strive to grow in these virtues by keeping my heart set on the things of heaven and through charity towards my neighbor?
God's Generosity: St. John reminds us that "God is love" (1 Jn 4:8). God's essence is self-giving. The man who hid his coin could not discover or fathom this reality, but the man who "spent" his gold coin found this out as he was able to earn many more. Jesus tells us that "unless a grain of wheat falls to the ground and dies, it remains just a grain of wheat" (Jn 12:24). Later, however, a metamorphosis occurs which brings many new grains of wheat into being. Jesus' death on the cross is the perfect example of the transformation of sacrifice and self-giving into fruitfulness. We can't have Jesus as our king unless we are willing to follow him on his journey to Jerusalem and impending death. We have much to give up, but we have so much more to gain by using our talents for the Kingdom.
Conversation with Christ: Lord Jesus, I am sometimes afraid of what it means to die to myself. Help me to use all of my talents for your Kingdom. Help me to realize that I have nothing to lose and everything to gain and to take steps courageously to love you.
Resolution: As a way of showing my love for Jesus, today I will practice patience with someone who annoys me.
Thursday, November 23, 2023 - Build Your Life on the Rock That Is Christ
Thursday of the Thirty-Third Week in Ordinary Time
Luke 19:41-44
As Jesus drew near Jerusalem, he saw the city and wept over it, saying, "If this day you only knew what makes for peace—but now it is hidden from your eyes. For the days are coming upon you when your enemies will raise a palisade against you; they will encircle you and hem you in on all sides. They will smash you to the ground and your children within you, and they will not leave one stone upon another within you because you did not recognize the time of your visitation."
Introductory Prayer: Lord Jesus, many times I have overlooked your love in the circumstances of my life. I know you are always present, even if I don't feel your love. This time of prayer is an opportunity to show you my love, and I truly desire to bring you consolation as you so often bring consolation to me.
Petition: Heavenly Father, help me to stand firm amidst the vicissitudes of life.
"As for Me and My Household, We Will Serve the Lord" (Josh 24:15): The beauty of this life is that it offers us so many options. We have all been given the grace of free will, and we can choose to do many things. We can choose where we would like to work, where we want to vacation, who our friends are, and what we are going to do this very moment. But the most important choice we make in life is to decide whether to love and serve God or to deny him. God's greatest natural gift to us is free will, and with it we direct our own destiny. What a truly beautiful soul who chooses to spend his life serving God! Clearly opting for God and his ways gives direction to a person's life and provides clarity in moments of darkness and trial.
The Time to Prepare for a Storm Is Now: The worst time to clean out the gutters is in the middle of a thunderstorm. And that roof would have worked a lot better had it been fixed before a week of rain. The concept of being prepared is so hard for us human beings. Christ told his disciples, "Watch and pray that you may not undergo the test" (Mt 26:41). He was saying, "Be prepared. You never know when temptations or tough times are going to strike."
Holding the Fort: The spiritual life is a lot like a castle. A castle has its strong points and its not-so-strong points. It has a moat, high stone walls and turrets, but it also has a gate made only of wood. Each of us has one or two things that can be likened to that wooden gate. We all have our weaknesses, but do we know what those weaknesses are? One of the keys to being able to resist sin is self-knowledge. If we know ourselves, we can avoid putting ourselves in compromising situations. We can use our strong points to fight the enemy and fortify those areas that are the weakest. In the end, the strongest weapon we have both to resist and to fight is our dependence on the Lord—our prayer and fidelity to his will!
Conversation with Christ: Jesus, I don't want to base my life just on feelings and on what pleases me. I want to live for you, to take a risk for you.
Resolution: I will start a constant prayer life by praying the Rosary every day this week.
Friday, November 24, 2023 - God's House Is Holy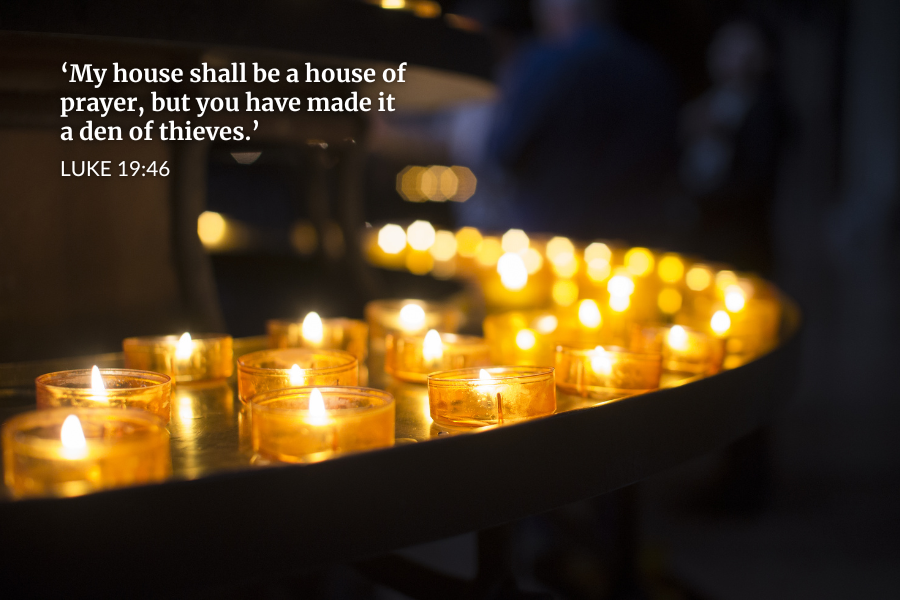 Memorial of Saint Andrew Dung-Lac, Priest, and Companions, Martyrs
Luke 19:45-48
Jesus entered the temple area and proceeded to drive out those who were selling things, saying to them, "It is written, 'My house shall be a house of prayer, but you have made it a den of thieves.'" And every day he was teaching in the temple area. The chief priests, the scribes, and the leaders of the people, meanwhile, were seeking to put him to death, but they could find no way to accomplish their purpose because all the people were hanging on his words.
Introductory Prayer: Lord Jesus, you are the Alpha and the Omega. You have given me life and offer me eternal life with you. You deserve my honor, gratitude, and love, and yet you never impose yourself upon me. Thank you for respecting my freedom so that I can offer myself to you. All that I have is yours; I return it to you.
Petition: Lord God, teach me greater reverence for your house.
Zeal for the Father's House: Jesus was not an enemy of commerce. In fact, many times the Gospel makes references to buying and selling without any negative connotations at all. However, in today's Gospel passage we find Our Lord irate for two principal reasons. First, business activity was taking place within the Temple area. This was, in a sense, a "profanation" of God's house. The Temple of Jerusalem contained, veiled behind a massive curtain, the Holy of Holies, where God's mysterious presence dwelled. Yet, paradoxically, Temple worshipers had first to cross what had the appearance of a marketplace to be able to worship before the Lord. Second, Jesus was indignant due to the fact that the temple merchants were dishonest. Am I always honest in my business dealings? Do I always respect God's name and the things of God?
Return to Reverence: Jesus was on fire with zeal for the house of his Father and determined that it be respected as a house of prayer. Silence, worship and prayer are elements that should be an essential part of every visit to a church, especially for Sunday Mass. In the tabernacle of every Catholic Church, Our Lord is present in the Eucharist as a prisoner of love waiting to enter into dialogue with us. We are never closer to heaven than when we are before Our Eucharistic Lord. Yet we can forget this truth. Our postures, chatter, and dress might contribute to a general "profanation" of God's house. Do I try to remember every time I enter a church that I am standing before my Lord who made heaven and earth? Can others see that I believe Jesus is really present in the Eucharist? Is he the center of my attention? Can I put aside all distractions?
Hanging on Jesus' Words: The crowds are described as "hanging" on Jesus' every word. Jesus showed a reverence for his Father's house far greater than any external piety the Pharisees demonstrated. He spoke the truth and was never afraid to stand up for it, even when it was less than convenient to do so. He was unafraid of those who "were seeking to put him to death." Jesus' uprightness was the key to his effectiveness and the attractive power of his words. As Christians we are called by vocation to imitate the uprightness of Our Lord in our words and actions.
Conversation with Christ: Lord, many times I have entered Church distractedly and forgotten that you were present. I beg your forgiveness. I ask to be a zealous witness of your love, and I promise to show you greater reverence in the Blessed Sacrament.
Resolution: I will live the Mass this Sunday, either in person or virtually, with a special reverence.
Saturday, November 25, 2023 - Christ Is the Answer
Saturday of the Thirty-Third Week in Ordinary Time
Luke 20:27-40
Some Sadducees, those who deny that there is a resurrection, came forward and put this question to Jesus, saying, "Teacher, Moses wrote for us, 'If someone's brother dies leaving a wife but no child, his brother must take the wife and raise up descendants for his brother.' Now there were seven brothers; the first married a woman but died childless. Then the second and the third married her, and likewise all the seven died childless. Finally the woman also died. Now at the resurrection whose wife will that woman be? For all seven had been married to her." Jesus said to them, "The children of this age marry and remarry; but those who are deemed worthy to attain to the coming age and to the resurrection of the dead neither marry nor are given in marriage. They can no longer die, for they are like angels; and they are the children of God because they are the ones who will rise. That the dead will rise even Moses made known in the passage about the bush, when he called 'Lord' the God of Abraham, the God of Isaac, and the God of Jacob; and he is not God of the dead, but of the living, for to him all are alive." Some of the scribes said in reply, "Teacher, you have answered well." And they no longer dared to ask him anything.
Introductory Prayer: Lord Jesus, you are the Alpha and the Omega. You have given me life and offer me eternal life with you. You deserve my honor, gratitude, and love, and yet you never impose yourself upon me. Thank you for respecting my freedom so that I can offer myself to you. All that I have is yours; I return it to you.
Petition: Lord Jesus, help me to be a child of God, a child of the resurrection.
Simple and Constant Conversation: Today we see some Sadducees asking Christ an important question about heaven. Christ teaches us that once we are in heaven, things will be considerably different than they are here on earth. This is a beautiful example how we can converse with Christ. We simply need to ask him questions: questions about our faith, about difficulties we may be having with certain relationships, about career changes, etc. The answers we receive may not be what we were expecting or hoping for, but what is important is that we engage Christ in conversation every day and that we seek to please him in everything we do. This open, warm contact with Our Lord is already a little taste of heaven.
Union with Christ: Christ reminds us that he and the Father are the God of the living. He gave us our life; we lost it. He became man, suffered, died, and rose on the third day that we might have a new life—a life in and with God, now and for all eternity. Our ultimate marriage will be in heaven, as we will be one with God as Jesus is.
Participation in the Life of God: When God reveals his mysteries to us, we participate in his life. God has made us so we would pursue him, so we would listen to him, so we would understand him, so we would crave the things of God. Is that not a mystery unto itself? We have a God who wants to speak with us constantly about the things of heaven! This reality, this inestimable gift, should move us to share with others the Good News.
Conversation with Christ: Lord Jesus, through your death and resurrection and my baptism, you have made me a child of God. Help me to appreciate more fully this day and what it means to be a child of God. Grant me the grace to live in accord with this gift of gifts.
Resolution: Today I will look on all things as if God were speaking to me in every moment.
Sunday, November 26, 2023 - Sheep and Goats
Our Lord Jesus Christ, King of the Universe
Matthew 25:31-46
Jesus said to his disciples: "When the Son of Man comes in his glory, and all the angels with him, he will sit upon his glorious throne, and all the nations will be assembled before him. And he will separate them one from another, as a shepherd separates the sheep from the goats. He will place the sheep on his right and the goats on his left. Then the king will say to those on his right, 'Come, you who are blessed by my Father. Inherit the kingdom prepared for you from the foundation of the world. For I was hungry and you gave me food, I was thirsty and you gave me drink, a stranger and you welcomed me, naked and you clothed me, ill and you cared for me, in prison and you visited me.' Then the righteous will answer him and say, 'Lord, when did we see you hungry and feed you, or thirsty and give you drink? When did we see you a stranger and welcome you, or naked and clothe you? When did we see you ill or in prison, and visit you?' And the king will say to them in reply, 'Amen, I say to you, whatever you did for one of the least brothers of mine, you did for me.' Then he will say to those on his left, 'Depart from me, you accursed, into the eternal fire prepared for the devil and his angels. For I was hungry and you gave me no food, I was thirsty and you gave me no drink, a stranger and you gave me no welcome, naked and you gave me no clothing, ill and in prison, and you did not care for me.' Then they will answer and say, 'Lord, when did we see you hungry or thirsty or a stranger or naked or ill or in prison, and not minister to your needs?' He will answer them, 'Amen, I say to you, what you did not do for one of these least ones, you did not do for me.' And these will go off to eternal punishment, but the righteous to eternal life."
Introductory Prayer: Lord Jesus, thank you for this chance to spend time with you in prayer. You are the Prince of Peace and the Lord of Mercy. I trust in your goodness and love. I love you and earnestly long to love you more each day.
Petition: Lord, help me to translate my faith in you into good deeds done for others.
Judgment Day: All of our life is, in a sense, a preparation for the judgment we face at life's end. That is when we go before Our Lord and give account for everything we have done or failed to do. No excuses will be accepted, no more "second chances" given. Jesus' mercy doesn't mean he ignores justice. "Mercy differs from justice, but is not in opposition to it," wrote Pope Saint John Paul II in his 1980 encyclical, Dives in Misericordia (Rich in Mercy). Would I be ready to face the Lord this very day? If not, why not? What facet of my life do I need to change right now?
The Sheep: The sheep to be saved are the people who helped others, who showed mercy, who didn't turn a cold shoulder to someone in need. Our Lord doesn't praise them for their many prayers so much as for their good deeds. Prayer is important, of course. But it's not enough. Christ wants our love for him to be reflected in our love for others. Oddly, many of those to be saved will not have realized that it was really Christ they were helping. Do I see Christ in those who need help? Do I see Christ in my family members? My co-workers? The demanding boss? The unpopular classmate? The smelly beggar?
The Goats: It's scary to think that those who will be lost were not necessarily "bad people." In this passage Our Lord doesn't chide them for doing wicked things. He doesn't accuse them of starting wars or peddling drugs or committing acts of terrorism. Rather, he faults them for the sin of omission, for things they didn't do. "You gave me no food… You gave me no clothing." We may think ourselves good Christians because we don't cheat on our taxes or look at pornography or miss Mass on Sundays. But acts of charity are key, too. We should do these without neglecting the others.
Conversation with Christ: Lord, I don't want to end up with the goats at the Last Judgment. That's why I want to take my faith seriously. I want to have a generous heart. But do I limit my generosity? Why can't I see you in my neighbor? You have loved me unconditionally. Help me to respond to your love by loving others unconditionally.
Resolution: Before noon, I will perform one small act of charity for someone close to me.